Road traffic crash fatality reduces by 27% in Kwara- FRSC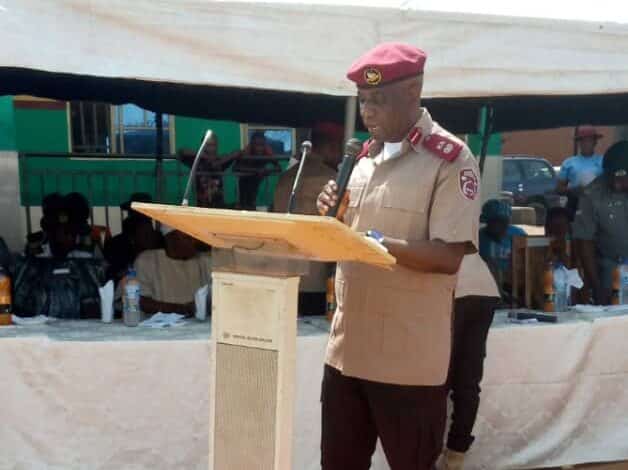 By Mosunmola Ayobami, Ilorin
The Sector commander, Federal Road Safety Corp (FRSC), Kwara State, Frederick Ogidan has said road traffic crash fatality had been reduce by 27 percent in 2023.
Ogidan also said the Command has been able to increase enforcement by 47.9 percent, pledging readiness to continue to improve on the operations in other to ensure safer roads and fuller lives for the citizens of the state
He said Kwara state is ahead the 5% Road Traffic Crashes (RTC)mandate in tandem with goal 1 of the Corps 2023 corporate strategic Goals.
Ogidan made this disclosure while flagging off Ember months safety campaign tagged 'Speed thrills but kills; drive responsibly and avoid overloading' held at Maraba motor park in Ilorin.
He urged everyone to imbibe safety culture and take the issues of safety on highways paramount whenever they are using the roads, urging the people to cooperate with the FRSC to fight reckless driving.
He flagged off the ember months safety campaign so as to reduce reckless driving and traffic crashes.
Ogidan identified cases of excessive speeding, drunk driving, use of stimulants, overloading of goods and passengers on vehicles and disobedience to road traffic rules and regulations as the major causes of crashes that happens during the ember months.
"In 2023 we have a mandate to reduce Road Traffic Crash Fatality by 5% in tandem with goal 1 of the Corps 2023 Corporate Strategic Goals.There are cases of commercial drivers who are hungry for more trips to make more profits in preparation for the yuletide season without adequate rest which are mainly responsible for Road mishaps which claims lives on our roads which this campaign is aimed at stopping.
"In line with our goal of reducing RTC fatality by 5% this year nationwide, Kwara State is already way ahead in actualizing this goal. I therefore urge everyone present to imbibe safety culture and take the issues of safety on our highways paramount whenever we are using the road; join hands with the FRSC to fight this ugly monster cutting lives short on our roads" he said.
The Road Safety boss thanked the leadership of NURTW, RTEAN, AIT, TOAN, ORAN, ATTAN, NATA and other organized bodies in the transport Industry for their cooperation.
"The Command is making frantic efforts through various Electronics and Print media, Public Enlightenments such as Daily offenders Education, Early Morning Cry at Motorparks, Market Advocacy, School Advocacy, Stakeholder Engagement and visits to Churches and Mosques to sensitize motoring public on the consequences of disobedience to traffic rules and regulations
"My special appeal goes to our Commercial Drivers who carry the highest numbers of passenger involved in Road Traffic Crashes to ensure they drive safe avoid dangerous overtaking and overloading which are the leading causes of RTC on our Roads.

"As the Lead Agency in Road Traffic Management in Nigeria our overall goal is to reduce RTC deaths by 50% by the year 2030 using 2019 as a baseline, in addition to our vision of a country where Road Traffic Crash results in no death." he added.