Sanwo-Olu commissions 13 infrastructural facilities across Lagos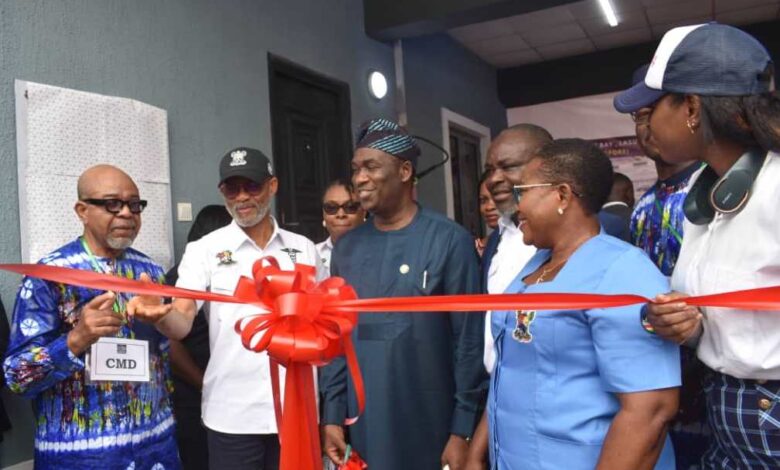 In line with his administration's commitment to deliver dividends of democracy and good governance to Lagos residents, Governor Babajide Sanwo-Olu on Wednesday, commissioned 13 projects in eight local government areas of the State.
The commissioning of the projects in Amuwo-Odofin, Badagry, Agege, Ojo, Alimoso, Ifako Ijaiye, Ikeja and Ajeromi/Ifelodun local government areas, were parts of the 11-day programme lined up to celebrate Governor Sanwo-Olu and his deputy, Dr. Obafemi Hamzat's first term in office.
The projects commissioned are the School of Basic Medical Science Block, 120 Bed MCC (SDG Building), Ambulance Bay, Special Services Centre House, Officers' Quarters at Lagos State University Teaching Hospital (LASUTH); newly rehabilitated Mba-Cardoso Street, Ajegunle; Akesan Obadore Road, Alimosho; Ikeja Town Square and unveiling of the newly installed Heidelberg Speedmaster CX 104-5+LX Machine at Lagos State Printing Corporation, Ikeja.
Other projects commissioned were constructed jetties with waiting shelters and shoreline protection at Marina and Isaju-Ajido in Badagry, as well as at Ilashe and Ijegun-Egba in Amuwo-Odofin; Government Girls Senior College in Agege; Alimosho Junior Grammar School and Ijaiye Housing Estate Junior Secondary School, Alimosho; newly constructed Primary Healthcare Centre, Ijedodo in Iba LCDA, Ojo and Ijaiye Ojokoro Senior High School, Ifako Ijaiye.
Governor Sanwo-Olu was represented during the commissioning held simultaneously in 13 places by his deputy, Dr. Obafemi Hamzat; Secretary to the State Government; Mrs. Folashade Jaji; Chief of Staff, Mr. Tayo Ayinde; Head of Service, Mr. Hakeem Muri-Okunola; Deputy Chief of Staff, Mr. Gboyega Sayanwo; Commissioners and Permanent Secretaries, among others.
Speaking during the commissioning of medical infrastructure projects, at the Lagos State University Teaching Hospital (LASUTH) Ikeja, Governor Sanwo-Olu said the provision of the different projects is to ensure the delivery of modern medical facilities that will strengthen the capacity of the State's healthcare system ostensibly to meet the needs of the people.
The governor, who was represented by Dr. Hamzat noted that the facilities have been provided in fulfillment of his administration's promises and commitment to the people of Lagos State under the Health and Environment Pillar of his administration's THEMES development agenda.
While appreciating the Senior Special Assistant to the Presidential on Sustainable Development Goals (SDG), Princess Adejoke Orelope-Adefulire for the donation of a 124 Bed-SDG Multipurpose Medical Building, Sanwo-Olu said: "I have no doubt in my mind that with this facility, and several others that have been put in place in other parts of the country, we are on the path to improving our nation's Human Capital Development Index and achieving the set targets under the United Nations Sustainable Development Goals".
He said the building equipped with modern medical care facilities, comprising four Medical schools in the areas of Anesthesia Technology, Echo Cardiograph, Orthopedic Cast Technology and Post Graduate Nursing, will significantly raise the status of LASUTH as a leading/award-winning Medical School and Centre of Excellence in Healthcare Service Delivery.
Speaking earlier, Princess Orelope-Adefulire said Lagos State being the most populous state in the country deserves the provision of necessary medical infrastructure.
She noted that the infrastructure will take care of all Nigerians residing in the state.
Speaking at the commissioning of Mba-Cardoso Street in Ajeromi-Ifelodun Local Government Area, Governor Sanwo-Olu represented by his deputy, said his administration will continue to expand the transportation sector, which includes the provision of modern and sustainable road infrastructure as part of activities to herald a new administration.
He added that his administration is committed to improving commuters' travel experience, saving important man-hours that would have been otherwise lost to traffic; providing better riding surfaces; boosting interconnectivity and generally making life more meaningful for commuters.
In her welcome address, Special Adviser to the Governor on Works and Infrastructure, Mrs. Aramide Adeyoye said the Sanwo-Olu administration has kept its promise to improve the quality of life of the people and drive massive socio-economic growth through infrastructure upgrade and renewal.
"The commitment of this administration to put in place infrastructure that will enhance the well-being of Lagosians and empower them across economic activities is brought to the fore," she said.
In his remarks, Chairman of Ajeromi-Ifelodun Local Government Area, Hon. Fatal Adekunle Ayoola said the rehabilitation of the Mba-Cardoso road has brought great relief to the residents.
Speaking at the commissioning of newly upgraded jetties with waiting shelters and shorelines in Badagry, Governor Sanwo-Olu, who was represented by his Special Adviser on Economic Planning and Budget, Mr. Adebayo Olukayode Sodade, expressed his delight at the completion of the projects that will serve the populace of Ijegun Egba and its environs.
The governor assured Lagosians of the government's commitment to completing ongoing jetty constructions and enforcing safety regulations to ensure safe travel on the waterways.
The commissioning of multiple jetties reflects the Lagos State government's commitment to improving transportation infrastructure, enhancing water transportation, and reducing travel time for Lagos residents.