Sanwo-Olu hails first lady's Renewed Hope Initiative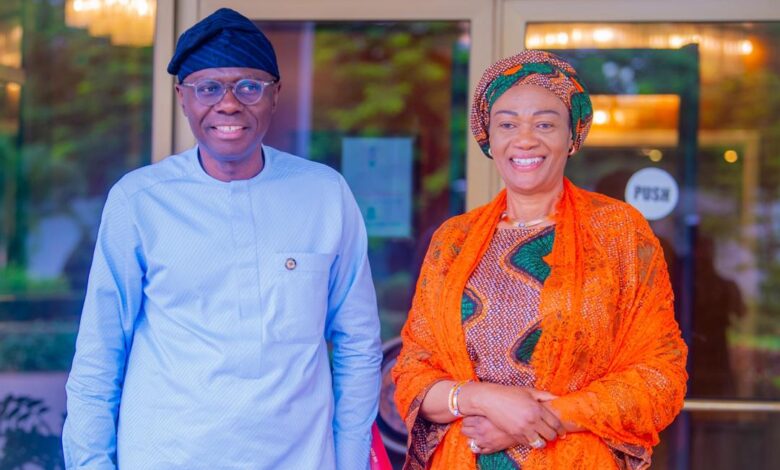 G
Lagos State Governor, Babajide Sanwo-Olu has applauded Nigeria's First Lady, Sen. Oluremi Tinubu, for her intervention in empowering to women and other vulnerable groups in the society through her Initiative, Renewed Hope Initiative.
The governor stated this after paying a courtesy visit on the First Lady at the State House in Abuja.
The interventions of the initiative in the education sector were a National Scholarship Programme which was recently flagged off in Abuja with 43 beneficiaries from across the nation, women ICT Training and other empowerment programs in agriculture and social investment.
The Governor said that these will complement similar policy objectives of the Bola Tinubu Renewed Hope Agenda, as well as serve to reassure Nigerians.
"We have to encourage her on the Renewed Hope Initiative which we have all heard about, which she is championing with other First Ladies and of course the wife of the Vice President, because it complements what Mr President is doing. I think she is really great with her focus on schools and to be able to provide succour for the people that are vulnerable," Sanwo-Olu said.
On the ongoing reforms by President Bola Tinubu, Governor Sanwoolu said taking the country to a level where every Nigerian can be comfortable requires hard decisions and systematic efforts by the government, as well as a lot of patience on the part of the citizens.
"We have to continue to encourage and support him, and encourage our citizens as well that we see a bright light down the tunnel. Not doing anything is not an option. So, in the course of doing things differently, there will be belt up here, there will be tightening there, but at the end of the day we believe the result that comes out of those reforms will improve the quality of life and make things a lot better for our citizens and the economy will continue to grow in the direction that we are all appreciative of," he added.