Sanwo-Olu, Oyebanji congratulate Tinubu on emerging President-elect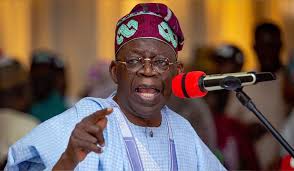 Governors of Lagos and Ekiti states, Babajide Sanwo-Olu and Biodun Oyebanji have congratulated President-elect, Asiwaju Bola Tinubu for emerging victorious in Saturday's presidential election.
This was contained in statements signed personally by Oyebanji himself and Sanwo-Olu's Chief Press Secretary, Gboyega Akosile respectively.
Sanwo-Olu described Tinubu's win at the polls as a "major victory" for the nation's democracy.
Sanwo-Olu said: "Asiwaju has worked tirelessly in the past two decades to deepen democracy in Nigeria, building bridges across the length and breadth of the country. His political credentials, which are a product of his many years of genuine investment in human and national development have played critical roles in giving him the national spread and endeared him to millions of Nigerians.
"Asiwaju's decades of political activism and democratic struggle are well understood by the people. They, in return, have built their trust in him as a true democrat and a man to work with for Nigeria to continue on the path of unity, economic growth and development.''
Sanwo-Olu said he is confident that Tinubu would work hard to return the country to the league of nations where economic prosperity, security and political stability are hallmarks of development.
''I congratulate my leader, mentor and president-elect, Asiwaju Bola Tinubu on this historic achievement. Beyond that, I am confident that you will, in no time turn around the fortunes of Nigeria for the better in all the areas for Nigeria to sit permanently among nations with stable political, economic and social development," the governor added.
In the same vein, Oyebanji also described Tinubu's emergence as the President-elect as a sweet victory, coming after a rigorously fought electoral process.
The governor congratulated the President-elect, whom he described as a man of immense experience, capacity and competence who will lead and serve the country with courage and sagacity. 
He said: "It is a new day in Nigeria, a happy day for all lovers of democracy, Asiwaju Tinubu's electoral victory is a defining moment in the anal of our political history as a nation. 
"I have absolute confidence in Asiwaju Tinubu's capacity to turn around the fortunes of the country and lead Nigeria to a new level of economic prosperity and international relevance."
While also congratulating the leadership of INEC and the ruling All Progressives Congress (APC), Oyebanji urged Nigerians to be prepared to give massive support to the incoming administration.