Sanwo-Olu passes N1.768trn budget for 2023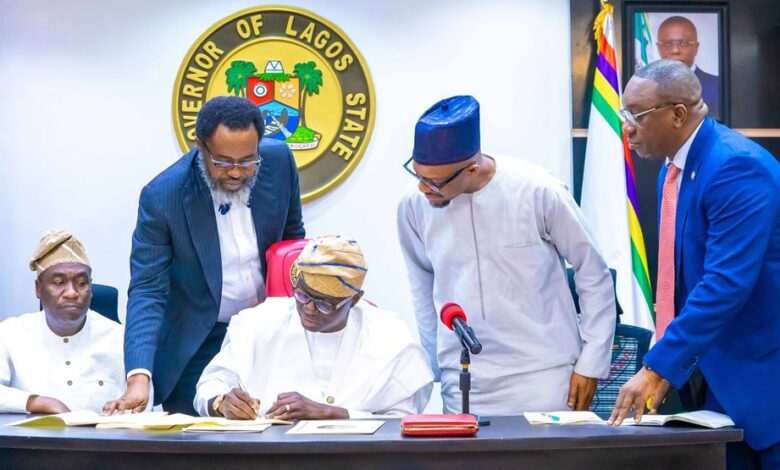 …says Osun election tribunal judgment right thing
Lagos State Governor, Babajide Sanwo-Olu on Friday assented to the 2023 appropriation bill of N1.768 trillion.
The House of Assembly passed the bill into law last year December 12. The budget is about N100 billion above what Governor Sanwo-Olu presented to the lawmakers.
The governor, on October 27, 2022 presented a N1.69 trillion budget to the House, christened 'Budget of Continuity'.
The budget has a capital to recurrent expenditure ratio of 58:48 per cent.
Governor Sanwo-Olu thanked the House of Assembly for once again showing their support for his administration, and commitment to the socio-economic development of the state, with the quick passage of the appropriation bill.
He, however, said the budget was not a true description of what the people deserved as the government had to work with what was available.
"In years to come we will do better," he added.
The governor also urged the people to remain committed to playing their roles by paying their taxes duly, saying the budget will ensure that all ongoing projects are completed as promised.
Commissioner for Economic Planning and Budget, Sam Egube said the budget aligns with the aspirations of Lagosians and the government's developmental plans.
Chairman of the House Committee on Appropriation, Gbolahan Yishawu, who represented Speaker Mudashiru Obasa, hailed the governor's team of financial professionals 'who ensure the people's need are met despite lean resources'. He said the House will continue to support the government's developmental agenda.
Governor Sanwo-Olu also described the tribunal judgment which sacked Ademola Adeleke as Osun State governor as 'the right thing'.
He said: "I think we need to continue believing in the judicial process of our country. I think the tribunal has taken its time and you can see the outcome. It was a majority decision and I thank them for doing the right thing.
"So my congratulations is to the APC family In Osun as this is a victory that had been delayed for long. I also congratulate my brother Governor Oyetola for his economic blue print that he started in Osun, and by the Grace of God he will return back to the Ileri Oluwa journey and complete the good work he started with the people."