Sanwo-Olu seeks Lagosians involvement in tackling incessant building collapse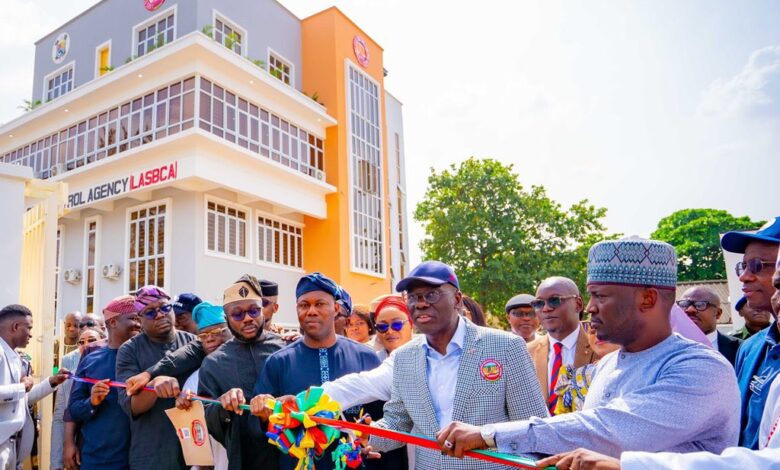 By Adeola Ogunrinde
Lagos State Governor, Mr. Babajide Sanwo-Olu, has sought for the involvement of Lagosians in tackling incessant building collapse in the state.
The governor sought for the support of all Lagosians and stakeholders while unveiling the new office building for the Lagos State Building Control Agency (LASBCA), in GRA, Ikeja on Tuesday.
He said government alone cannot address issue of building collapse without the support of the teeming populace.
"The task of reducing the menace of building collapse in our society is for everyone and it requires an attitudinal change across the board. When you see something going wrong in society, say it out loud. LASBCA district and zonal offices are all over the state where you can easily report any distressed building. I assure you that the confidentiality of your report is guaranteed and safe.
"I want to use this opportunity to call on all Lagosians especially Professionals that are engaged in the construction industry not to cut corners in the discharge of their duties. Because trying to cut corners has been majorly identified as the cause of building collapse in our society today .It is not just in Nigeria that we have seen or heard of building collapsing but all over the world", Sanwo-Olu said.
The governor said the reposition of the agency (LASBCA) and commissioning of the building played a crucial role in regulating construction activities, ensuring compliance with building standards, and promoting safety in rapidly growing urban landscape in line with the administration agenda.
He disclosed that the newly commissioned office would serve as the nerve center for the vital functions, equipped with modern technology and skilled workforces to enhance efficiency and effectiveness.
"In a rapidly evolving city like ours, it is imperative that we have robust mechanisms in place to address the challenges of urbanization. This LASBCA office will be at the forefront of this effort at collaborating with stakeholders, developers, and citizens to create a built environment that is not only aesthetically pleasing but also safe and sustainable.
" You can see that the aesthetic beauty of this environment has been enhanced. I urge you all to rededicate yourself to duty and make judicious use of the equipment and material provided inside this beautiful building", the governor charged.
Speaking earlier, the Commissioner for Physical Planning and Urban Development, Oluyinka Olumide, said the edifice marked a significant milestone in the development of the city, restating the committment of staff to rededicate themselves.
Also the General Manager of the agency, Gbolahan Oki, in his welcome address, thanked Sanwo-Olu for providing mental, emotional, material supports as well as conducive environment for the staff.