Saudi Arabia, Iran among six nations invited to join BRICS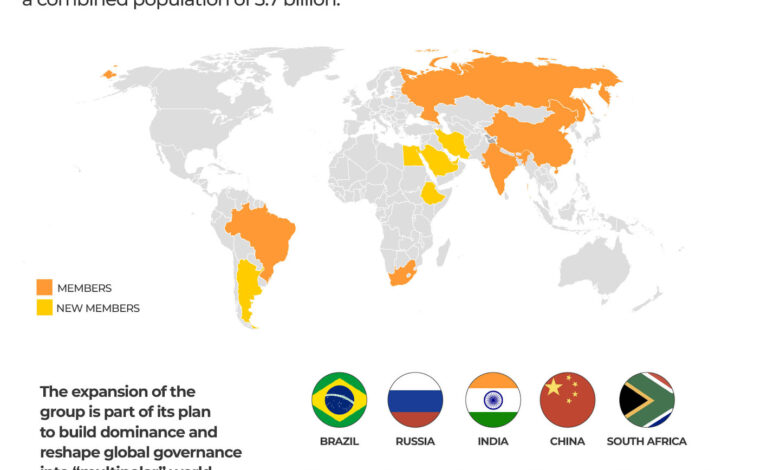 Saudi Arabia and Iran are among six countries invited to join BRICS as new members next year, South African President Cyril Ramaphosa has announced on the final day of a summit of the group that considers itself a counterweight to Western powers.
The group encompassing five major emerging economies – China, Brazil, South Africa, Russia and India – which makes decisions by consensus, agreed on "the guiding principles, standards, criteria and procedures of the BRICS expansion process", during the three-day annual summit held in Johannesburg this week, Ramaphosa said on Thursday.
Argentina, Egypt, Ethiopia, Iran, Saudi Arabia and the United Arab Emirates have been invited to join as full members from January 1 next year.
"This membership expansion is historic," said Chinese President Xi Jinping.
"The expansion is also a new starting point for BRICS cooperation. It will bring new vigour to the BRICS cooperation mechanism and further strengthen the force for world peace and development."
A senior adviser to Iran's president on Thursday welcomed the country's admission to the grouping.
"Permanent membership in the group of global emerging economies is considered a historic development and a strategic success for the foreign policy of the Islamic republic," Mohammad Jamshidi wrote on X, which was previously known as Twitter.
Ethiopian Prime Minister Abiy Ahmed hailed what he called "a great moment" for his country.
"Ethiopia stands ready to cooperate with all for an inclusive and prosperous global order," Abiy said on Twitter.
"We look forward to develop this cooperation to create new developmental and economic opportunities and elevate our relationship to the aspired level," Prince Faisal bin Farhan, Saudi Arabia's foreign minister said at the summit on Thursday.
Later, he told Saudi channel Al Arabiya that the kingdom welcomed the invitation and would review the details in order to make an "appropriate decision" ahead of the proposed joining date.
The core group of five BRICS countries has been discussing the issue of expansion for more than a year, Ramaphosa said, and the new members were invited this week after an agreement was reached at the summit.
The expansion of the group is part of its plan to build dominance and reshape global governance into a "multipolar" world order that puts voices of the Global South at the centre of the world agenda.
The inclusion of Saudi Arabia, the UAE, Iran and Egypt marks the first MENA representation in the group, and the inclusion of Argentina was championed by member Brazil.
Expansion was pushed heavily by Russia and China, analysts said, as they are facing pushback from Western nations in the form of sanctions.
Other BRICS countries were initially more ambivalent, but leaders came out in vocal support of the plan this week.
The grouping of emerging economies has been in formal existence for 15 years. Some experts told Al Jazeera that it has not achieved much and the diffuse nature of their political and social interests means BRICS leaders do not always agree on issues. Some say that has prevented them from becoming a more powerful or effective entity.
"What [BRICS is] trying to achieve in a way is being opened up for more discussion," Danny Bradlow, a professor with the Centre for the Advancement of Scholarship at the University of Pretoria, told Al Jazeera ahead of the summit. "As long as it was just the five countries, they were talking about the reform of global economic governance or global governance generally … But they haven't done very much about that.
"Getting agreements among the five has not been all that easy," he said. "If they expand membership, that makes it even more complicated. But it also depends on who they take on as the new members."
More than 40 countries had expressed interest in joining BRICS, and 23 formally applied to join the club, which already represented a quarter of the global economy and 40 percent of the world's population.
Some 50 other heads of state and leaders are attending the summit in South Africa, which concludes on Thursday.
SOURCE: AL JAZEERA