Saudi surgeons successfully separate Nigerian conjoined twins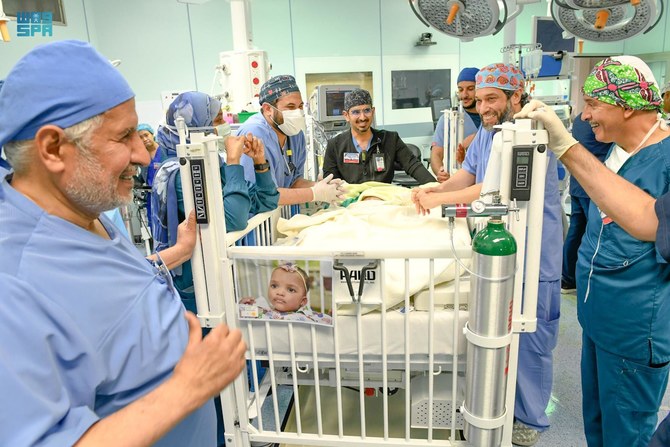 A team of Saudi surgeons on Thursday successfully separated Nigerian conjoined twins Hassana and Hassina after a 14-hour operation in Riyadh.
The specialist surgical team earlier announced the twins were in a stable condition at King Abdullah Specialist Hospital for Children in King Abdulaziz Medical City.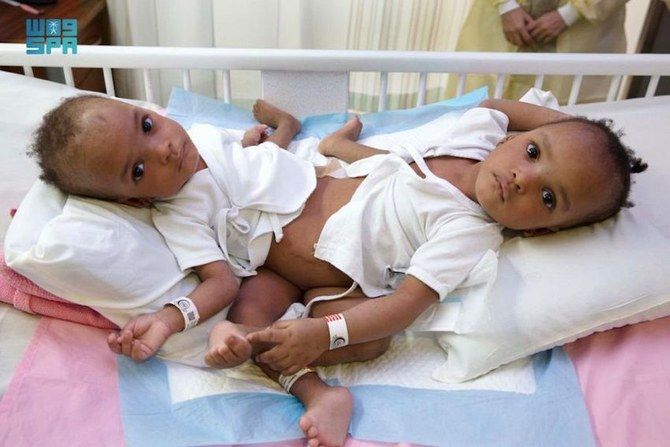 Hassana and Hassina, who were born in Kaduna, Nigeria, on Jan. 12 last year, shared an abdomen, pelvis, liver, intestines, and urinary and reproductive systems.
The 85-member multidisciplinary team, which includes 35 medical and surgical specialists as well as nursing and technical staff, is led by Dr. Abdullah Al-Rabeeah, an advisor to the Saudi Royal Court and supervisor-general of King Salman Humanitarian Aid and Relief Center .
Before the procedure began, Al-Rabeeah said the operation would include eight stages. The surgery was undertaken on the directives of Saudi Arabia's King Salman.
Saudi Arabia's humanitarian initiatives have previously assisted with 130 cases of conjoined twins from 23 countries over a period of 33 years, and Hassana and Hassina will be the 56th set of twins to be separated as a result.
Nigeria's ambassador to Saudi Arabia, Yahaya Lawal, said: "I take this opportunity to once again thank the custodian of the two holy mosques, the crown prince, and the entire leadership of the Kingdom for this kind humanitarian gesture extended to these conjoined Nigerian twins, Hassana and Hassina.
0 seconds of 1 minute, 36 secondsVolume 90%
"Nigeria is so delighted to see this day, the operation to separate these conjoined twins which is ongoing, and I am so pleased also on behalf of the federal government of Nigeria to state that we look forward to a very successful operation.
"We thank the medical team led by Dr. Al-Rabeeah and all the team who are involved in this very delicate operation. May Allah bless them, bless the efforts, bless the Kingdom, and bless the entire people of Saudi Arabia. Nigeria shall ever remain grateful for this kind humanitarian act."
The ambassador added: "We understand a number of stages have been successfully carried out and look forward to successfully finishing the remaining stages."
Source: Arab News