SCOAN holds crusade in Spain April 28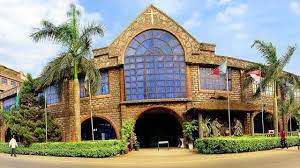 The Synagogue Church Of All Nations (SCOAN) has announced a two-day crusade, taking place in Madrid, Spain.
The crusade, according to the church will take place on April 28 and 29.
One of the coordinators of the crusade, Segun Olanipekun in a statement at the weekend, said event is expected to be attended by people from other European countries as well as South America.
"With the announcement of the crusade in Spain, people have been trooping in from different parts of Europe like Germany, France, Norway, UK, Portugal, and some South American countries like Ecuador, Peru, Paraguay, Argentina, Uruguay, Brazil, Colombia, Chile, Bolivia, Dominican Republic, Guyana among others for the crusade," Olanipekun said.
He added that many hotels have been overbooked by attendees.
The two-day crusade by Pastor Evelyn TB Joshua will hold at Pabelion Fermando Martin, Fuenibrada, Madrid.
Speaking on the crusade, Pastor Evelyn TB Joshua said: "This is the Lord's doing and we will continue to give Him all honour, adoration and praise for His marvelous deeds. This is not about Evelyn but SCOAN where God reigns and His mighty hand is visibly in charge and Prophet TB Joshua has remained the General Overseer."
According to her, there has been a deluge of invitations from several countries for crusade of which Prophet TB Joshua was able to attend to some of them before his passing.
"We have continued to receive invitations upon invitations from nations and friends of the Ministry who believe in the God of TB Joshua and know that his spirit is alive as his Master Jesus Christ our Lord and Saviour is alive for He never said 'good bye' as He continues in the divine task of blessing, healing, deliverance and salvation for those who trust and look up to Him.
"It is in the veins of these invitations that we have chosen in grace to be in Spain and as soon as God gives us more grace it shall be turn by turn for other countries," she added.
She said that expectations on the crusade are high as miracles still happen in SCOAN after the passing of the founder.