Shaibu pledges loyalty to 'elder brother' Obaseki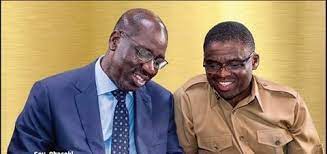 Edo State Deputy Governor Philip Shaibu has described Governor Godwin Obaseki as his elder brother, pledging his loyalty to him.
Shaibu said this at the 32nd anniversary ceremony of Edo state, which took place at the government house, Benin on Sunday.
Shaibu went further to say that he will not discuss issues with the governor "on camera".
He however added that his loyalty to Obaseki does not stop his ambition.
"As for the issues that are around town when I was away, I really would not want to talk. Issues that concern my governor are not things I like to speak about on camera," he said.
"He is my elder brother and boss and I don't think I should talk about anything.
"And if I have issues with him, I think it is better settled at home and not in the media. I am well brought up.
"I can tell you that from my Christian background, if you make a vow with God that you want to do something, you must fulfill it.
"The vow I have made with God is that I will continue to support Godwin Obaseki as the governor of Edo state from the beginning to the end.
"But that does not stop anything that has to do with ambition. Ambition is personal and it does not affect loyalty.
"My loyalty to the governor remains absolute. I see that everybody is doing solidarity. I am also in solidarity with the governor."
The relationship between Shaibu and Obaseki went sour after the former accused the governor of trying to impeach him.
He also accused Obaseki of sidelining him from the governance of the state.
Obaseki and the Speaker of the Edo State House of Assembly has however come out to deny the impeachment allegations.
Shaibu is believed to be interested in contesting the 2024 governorship election in the state.