Nigerians must shun divisive politics, says Shettima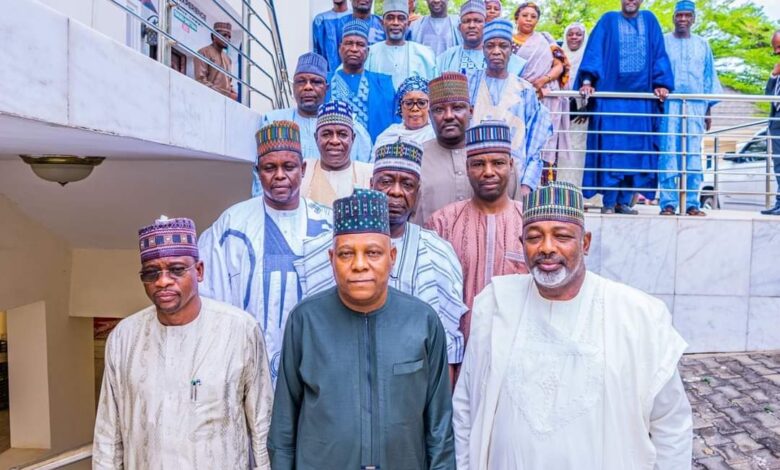 Vice President- elect, Senator Kashim Shettima says that for Nigeria to maximize its enormous potentials inherent in the Nigerian nation, its citizens must rid themselves of divisive politics.
Shettima stated this on Saturday when the Exco members of the Borno State chapter of the All Progressive Congress (APC), led by its Chairman, Hon. Ali Bukar Dalori paid him a congratulatory visit in Abuja.
Senator Shettima, who commended the Ali Bukar Dalori leadership of the party, lauded the party's efforts in recent victories at the polls.
The VP elect reiterated his principal, Bola Ahmed Tinubu's commitment to the betterment of the populace and the nation, saying power comes from God, and since one will spend more years of one's life outside power than in power, it was necessary for legacies to be left behind especially with communities as regards leaving them better than they were met.
Speaking against divisive politics, Shettima harped on the need to embrace one another as brothers and sisters.
He cited how the 'Nigerian' candidate won in the most northern of states (Sokoto), and the most Christian State with 90% population of Christians (Benue).
"What binds us together, supersedes what divides us. There is no burden that we carry than the burden of trust," Shettima stated.
He assured the delegation of efforts to be all inclusive in governance, just as he pleaded that they continued to support Governor Babagana Zulum of Borno State, saying" he is a good man, and everyone should rally round him."
In his remarks earlier, the state APC Secretary, Bello Ayuba congratulated Shettima and the party, saying everyone is happy with the victory achieved.
He said Sen. Shettima has always been good to them since when he was the governor, hence they had remained loyal and will continue to be loyal to him.
Ayuba notified the VP elect on some anti party activities by some members and the entailing disciplinary measures effected on them.