Soludo unveils subsidy removal palliatives plan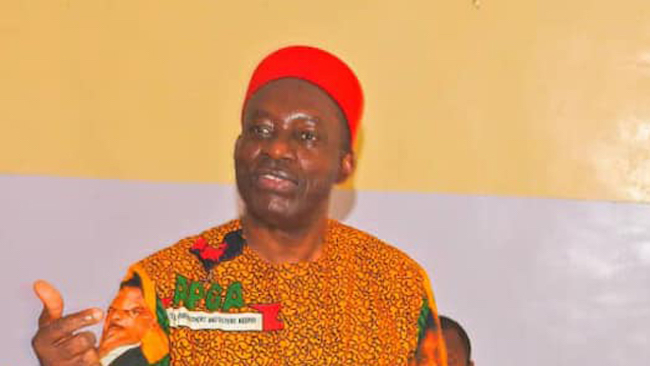 Anambra State Governor Charles Soludo has unveiled his government's fuel subsidy removal palliatives plans to cushion the effect to residents of the state.
Soludo made this known in a state broadcast.
The plans unveiled by the governor includes salary increase, cash awards for pensioners, tax exemption/reduction, distribution of food products, free antenatal services and free delivery services to pregnant mothers and many more.
Read full broadcast below:
GOV. SOLUDO ANNOUNCES ANAMBRA STATE INTERIM RESPONSE TO CUSHION THE EFFECTS OF ECONOMIC CHALLENGES
Nigeria is undergoing fundamental re-setting of the macroeconomic framework. The long overdue disruptive change (especially the removal of subsidy on PMS and reduction of distortions in the exchange rate) comes with certain hardships on all the residents of Nigeria.  Governments at all levels in Nigeria have shown a keen commitment to ameliorate the consequent short term effects of the policy change on livelihoods. The President of Nigeria,  Asiwaju Bola Ahmed Tinubu, GCFR, has rolled out an agenda of palliatives as the response of the federal government. We support the FGN agenda and expect to partner with the federal government to ensure that Anambra residents benefit maximally from the federal programmes.

Ours is a government on the foundation of the All Progressives Grand Alliance (APGA).  We are progressives, and the welfare of the ordinary Nigerians especially the poor and vulnerable, remains our primary focus. Our motto is: "Be your brother's and sister's keeper". There is no better time to rise up to the full essense of our motto and ideological stance on behalf of the ordinary persons than now.

In our 2024 budget, we shall roll out a more comprehensive agenda to address the medium to longer term issues that will help to smoothen the path for all our residents, and ensure that everyone shares in our broad agenda of building a livable and prosperous homeland.  In the meantime and over the remaining four months of the year (September – December 2023) as well as within the context of our 2023 budget framework, we are rolling out a few immediate and medium term measures.

Our response recognizes that the subsidy removal affects ALL citizens, especially millions of the unemployed and underemployed youths and vulnerable segments of the population. Our interim response reflects the need to target the total population.

Palliatives
a. Salary Augmentation and Cash Award:

(i) In our foresighted response to the rising inflation, our government had increased the salaries of all public servants by 10% effective January 2023. We have been paying the 10% adjustment since January 2023.

(ii) In addition to the salary increase, we will be paying every pensioner and public servant in the employment of the Anambra State Government and the 21 LGAs (approx. 59,000 persons) for the period September 2023 to December 2023 a monthly flat non-taxable cash award of N12,000. This is to augment their monthly take-home.

b. We will continue to clear the backlog of gratuity and pension of our pensioners. Recall that we met 4-year pension and gratuity arrears when we assumed office, which we have been paying since assumption of office.

c. Anambra State Government will be distributing rice to over 300,000 households in the coming weeks across the 326 wards in Anambra.

Tax Exemptions/Reductions:

a. The following highly vulnerable persons are exempt from all forms of taxation/levies: hawkers; wheel barrow and truck pushers; vulcanizers; artisans, okada drivers; petty traders with capital of less than N100,000; etc.

b. The IGR payments of ALL transporters — Keke, Minibus, etc are hereby reduced by 20% with effect from September 01, 2023.

c. Basic Education (primary school to JSS3) remain tuition free for all public schools. We are reviewing the plethora of other levies, fees, and charges in these schools. Before schools resume in September 2023, we shall make further announcements to sanitize the system and reduce the burden on our pupils/students and their sponsors.

d. Henceforth, we will provide free antenatal services and free delivery services to pregnant mothers in State primary health centres and general hospitals. We will announce a more comprehensive medical package for our residents, especially the senior citizens and children in our 2024 budget.

e. We call on the landlords to show empathy to their tenants at this challenging moment and consider easier options for rent payment.

Transport
a. We have approved the repair/renovation of all serviceable Public Servants Staff Buses currently under the office of the Head of Service of Anambra State to facilitate the movement of public servants.

b. Still on initiative to reduce the cost of transportation for the larger segment of Ndi Anambra, we will be applying to purchase many of the CNG-fueled buses to be provided by the Federal Government for intra-state transportation. The aim is to reduce the cost of transportation within Anambra.

c. We will embark immediately on the repair of existing and purchase of new water boats to ease transportation for our citizens in the riverine local governments.

Medium to long-term

a. We recently distributed a total of 1.1 million oil palm and coconut high yielding seedlings to over 100,000 households. We plan to sustain the distribution of one million seedlings per annum over several years in continuation of our revolution to create a new palm-coconut green/industrial ecosystem that will guarantee 500,000 – 1,000,000 households earning N1.5m to N3m per annum, thereby lifting them out of poverty, create wealth and earn foreign exchange for Nigeria. We also expect a new industrial complex to process the products, thereby creating more jobs for our youths.

b. We are getting ready to deal with the heavy flooding expected to massively affect eight local governments in Anambra soon.  We have made arrangements for resettlements of Ndi Anambra living in flood-prone areas. We will take every necessary measure to ameliorate the effects on the victims.

c. In the next few weeks, we will be energizing our One Youth Two Skills program by providing a mix of grant and soft loan schemes at a maximum interest rate of 9% per annum through a collaborative initiative between the Anambra State Small Business Agency (ASBA) and its partner development finance institutions. This will benefit about 4,500 of our youths who have recently completed the year-long intensive trainings, and will enable them to become entrepreneurs and employers of labour.  We are rolling out about N4 billion for this project.

d. We are completing the set-up and funding of the Ward-based Cooperative Initiative for micro-enterprises. We are proposing a revolving loan scheme at near zero interest rate. We are targeting over 100,000 micro businesses.

e. Already we employed 5,000 teachers and over 300 medical professionals within our first 9 months in office plus thousands of youths in the security sector.  We understand that the teeming unemployed youths remain a potent time bomb. We are committed to recruiting further thousands of youths as teachers for our schools and road/street sweepers and engaging youths in public works.

f. We are rolling out a very ambitious program to build/modernize the primary health centres (PHCs) in all the 326 wards — to let everyone have access to qualitative healthcare. This is in addition to renovation/modernization of hundreds of primary schools and secondary schools. We recently approved a huge program for urban and rural water schemes to ensure that especially the poor have access to clean portable water.

g. We are constructing over 340km of roads across all the 21 local governments and we are poised to continue. We have also started repairs of some "trunk A" federal and state roads, to improve the lives of Ndi Anambra and reduce transportation cost in the State.  As we enter the dry season, we will deliberately prioritize palliative works on many of our critical roads to lessen the burden on commuters and ensure more effective traffic management.

h. We are working assiduously to improve the Ease of Doing Business in Anambra to attract private sector investment into the State for improved job creation for Ndi Anambra.  Security of life and property remain the number one priority of government.  We are stepping up measures to deal with touts who inflict pain on our innocent citizens around some major places in the state.

i. Food prices are rising and food security has become a critical issue. We are determined to provide every assistance to the farmers for the next planting season in 2024 to boost food and animal production.

j. Finally, we are determined to collaborate with the Federal Government to ensure that Anambra residents benefit maximally from the myriad of palliatives being rolled out by Mr. President, including:

– Provide our updated Social Register for Anambra residents to benefit from the FGN cash transfer
— apply to attract a conditional grant of N50,000 to at least 1,300 nano business owners in each of the 21 LGAs of the State
– support MSME and Startups in Anambra to apply for N500,000 – N1million soft loan each at 9% pa and repayable over a period of 36 months
– in collaboration with the Organised Private Sector in the State, apply to obtain the N1bn soft loan each at 9% pa and repayable over 5 years available to 75 manufacturers in the country;
— the N100 billion CBN commercial agricultural loan
— the Gas conversion scheme; etc