Sports minister, Dare, rallies support for Tinubu in new year message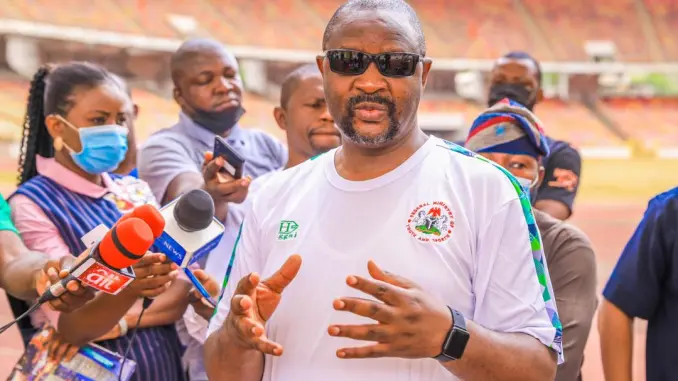 Minister of Youth and Sports Development, Sunday Dare has felicitated Nigerian youths for crossing over to the new year, which he described as a momentous year, filled with immense possibilities.
In a new year goodwill message, Dare urged the youths and Nigerians at large to task their ingenuity in breaking new grounds, and be determined to exercise their franchise in favour of the All Progressives Congress (APC) presidential candidate, Asiwaju Bola Ahmed Tinubu in the forth-coming general elections.
" I congratulate our youth and all Nigerians for making it into the year 2023, one which portents immense possibilities for our great country. It is a transition year in which President Muhammadu Buhari – under whose leadership, I'm privileged to serve as Minister of Youth and Sports Development will be winding down, and handing over to a democratically elected President.
"Over the past 7 and half years, this administration has posted landmark achievements in infrastructural renewal; dealt a fatal blow to terrorism and other forms of criminality, bolstered by new equipment for our military. It has with single-minded purpose changed our story from being the highest importer of rice and other staples, to one of the lowest on the continent.
"We have been led by a President who has laid an unprecedented infrastructural foundation for Nigeria. President Buhari has set the path of development progressively and only an APC can secure and expand these legacies.
"Whilst no administration anywhere in the World can address all challenges, as government is a continuum, we have the opportunity to elect a visionary and thinker – Asiwaju Tinubu, the All Progressives Congress (APC) Presidential Candidate as our next President to consolidate on the achievements of the outgoing administration, and bring impetus that will innovatively propel immense possibilities.
"Amongst those jostling for President, Asiwaju is the best man for the job, and his vision for the country, as encapsulated in the "Renewed Hope" manifesto, is clearly defined and well thought out. I urge us all to make a date with history by putting a visionary on the drivers seat," the minister said.
Dare who also doubles as Deputy Director, Stakeholder Relations of the APC Presidential Campaign Council (PCC) urged the youth stay focused and task their ingenuity to break new grounds in their endeavours.
He also tasked newly registered voters to ensure they collect their PVCs before January 22, 2023 and cast their votes for the APC, at all levels.