Stop giving gratification to soldiers at checkpoint- military urges public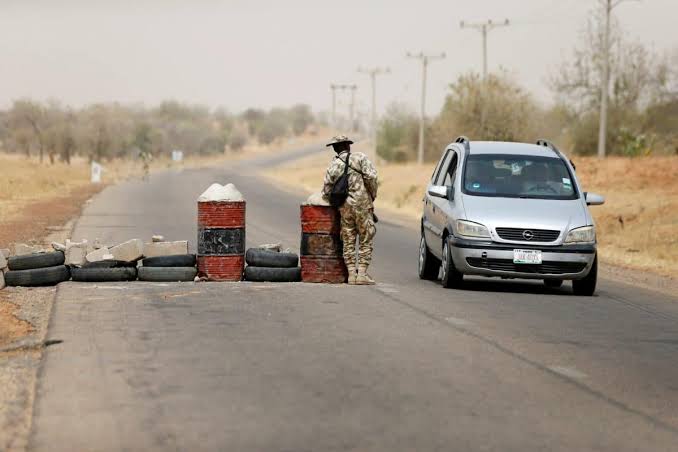 The Nigerian Army has warned soldiers stationed at checkpoints from engaging in improper behaviour such as taking gratification which it said could harm the service's reputation.
The warning was given by the 82 Division of the Army in Enugu during a discussion about the accountability of soldiers stationed at various checkpoints within the Division's area of responsibility, according to a statement on Friday.
This was contained in a statement issued by Deputy Director Army Public Relations of the Division, Lt. Col. Jonah Unuakhalu.
Speaking during its sensitisation lecture held at Abakpa Military Cantonment, Enugu, Lt. Col. Unuakhalu said it has received several complaints from the general public about the unprofessional behaviour of personnel at military checkpoints, which defeats the purpose of setting up the checkpoint.
He further urged the public to stop giving gratification to soldiers at checkpoints and to report instances of wrongdoing.
"The military has been involved in manning checkpoint across the country due to insecurity which has threatened the sovereignty of the country.
"Despite the numerous advantage of military checkpoint, there has been series of complaints from the civil populace on the unprofessional conducts of troops at military checkpoints which negates the aim of setting up the checkpoint.
"Roadblocks and checkpoint are mainly security measures implemented by the authorities to monitor and control the movement of vehicle and people in a particular area.
"They serve various purposes including law enforcement, security and traffic management," he said.

"The general public is therefore advised to desist from giving gratification to soldiers at checkpoints and report cases of misconduct by troops to the appropriate authorities.
"The Division will continue to carry out its assigned and constitutional role in line with global best practices," he said.