Subsidy palliatives: Sanwo-Olu flags off Lagos food bank programme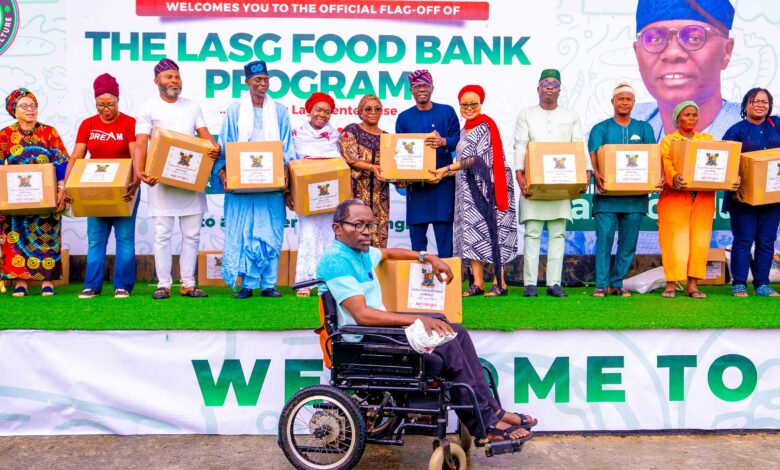 .Targets 500,000 vulnerable homes
Governor Bababjide Sanwo-Olu, on Sunday, flagged off the distribution of various palliative items targeted to reach at least 500,000 vunerable residents.
The measure is geared towards cushioning the effects of the fuel subsidy removal which has affected every sector of the economy.
Sanwo-Olu, who spoke at the flag-off held at the Lagos House, Alausa, Ikeja, said the distribution would be done in phases to be handled by special committee set up for effective distribution.
He said, "I stand before you all today, deeply aware of the challenges that many Lagosians have been facing with regards to the sharp increases in transportation cost and the prices of essential food items across the State as a direct effect of the policy on the removal of fuel subsidy by the Federal government.
"One of the measures which we announced and being formally flagged off today is the distribution of food items for vulnerable households through the Lagos Food Bank Programme.
"The Strategic goal of this programme is to reach 500,000 vulnerable households in the State with staple food items using two methodologies – bulk food items (50kg Rice, 50kg Garri and 100kg Beans) for groups, and food boxes (10kg Rice, 5kg Garri, and 5kg Beans) for individual vulnerable households."
To ensure transparency in the implementation of this intervention, a Monitoring Committee with members drawn from religious groups, Trade Unions, People with Disability, Civil Society/Non-Governmental organisations, Youth Group, Community Development Councils and representatives of the Lagos State House of Assembly will be constituted.
Sanwo-Olu added, "Further to this, distribution will be phased among the various beneficiary groups for ease of the distribution process. In line with this plan, each group will be duly informed of the date for collection.
"Overall, this initiative will directly impact 500,000 benefitting households, over 2,500 Micro, Small and Medium Enterprises involved in bag manufacturing, food aggregation, packaging, and logistics, while over 25,000 employees of the MSMEs will be indirectly impacted.
"I will like to use this opportunity to solicit for the support of well-meaning and public spirited individuals and organisations for this programme so that more of our people in need of this intervention can be reached. Be rest assured that adequate measures have been put in place to ensure that all items received get to the intended beneficiaries," the Governor stated.
While acknowledging the economic challenges being experience at this time, the Governor stated, "The policies being implemented right now by the Federal government are difficult but necessary measures that must be taken to reposition our economy on the path of sustainable development and prosperity for all citizens.
"I am therefore appealing for the continued understanding of all Lagosians with the assurance that we will do everything within our capacity to implement measures that will cushion this temporary pain as we continue to initiate programmes and projects that will uplift our people and provide quality living conditions to all."
Speaking on behalf of the beneficiaries at a symbolic ocassion, Mrs Josephine Omolola, Vice Chairman People Living With Disability, PLWD, commended the governor for the laudable programme saying, "on behalf of the PLWD in Lagos State, I just want to say thank you. You are father with a golden heart. We appreciate for all your support all the time. God will continue to guide you aright throughout your administration and beyond."