Subsidy removal, way to nation's sustainable economy – APC Nat'l Sec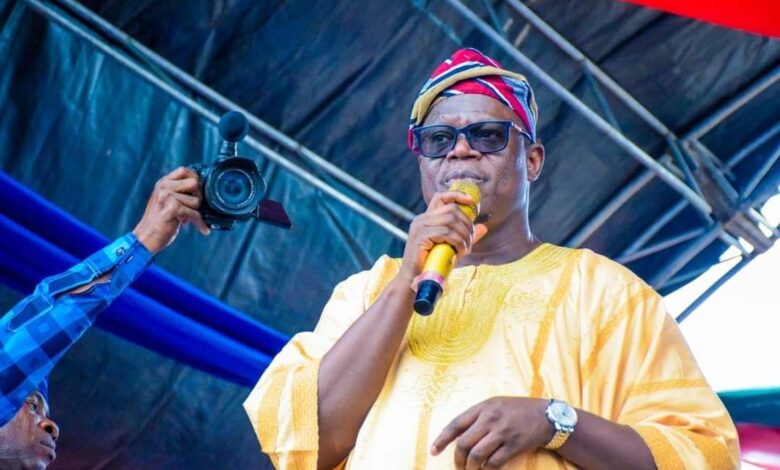 By Deborah Oladejo, Osogbo
The National Secretary of the All Progressives Congress (APC), Senator Ajibola Bashiru, has urged Nigerians to continue to support President Bola Tinubu's led administration, saying the initial pains are meant to build a sustainable economy for the country.
Speaking at a reception held in his honour at the Freedom Park Osogbo, Bashiru stated that the removal of subsidy is the best way to ensure sustainable economic growth and development of Nigeria.
The former Senate Spokesperson assured Nigerians that when the prices will stabilize they would get the benefits accruable from the savings.
His words: "The palliative is not the earn gain. The end gain is to revive our economy and get us back into productive economy that will ensure the welfare of the people. Palliative is a temporary measure and we believe that this is a federation, the state governments should be in the position to deliver those palliatives to the people.
"I believe it is a matter of time. when the prices will stabilize and then, the Nigerian people would be able to get the benefits accruable from the savings which can now be used to develop our economy."
Bashiru appealed to members of the APC in the state to.cocntinue to work assiduously for the party noting that the electoral defeat suffered by the party was a temporary.
He said those who worked against the party in the last general elections are now ripping the consequences.
"I want to thank all our supporters for standing with the party in the last general elections.
"APC garnered more than 113,000 votes in Osun Central Senatorial District in the last election.
"President Bola Tinubu won in Osun Central Senatorial district in spite of all the intimidation and harassment by the thugs," he said.
Speaking on behalf of other chairmen from the Southwest, the Ondo APC Chairman, Engr. Ade Adetimeyin charged members of the party on unity of purpose and love for the party.
Adetimeyin assured Basiru that all the party chairmen in the Southwest are solidly behind him as they pledged their support and total loyalty for him to succeed.