Prelate Emeritus, Methodist Church, Sunday Mbang dies at 86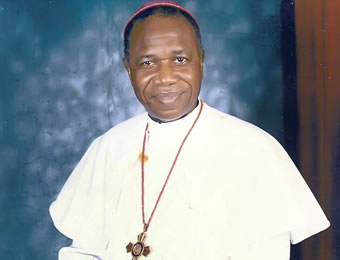 Prelate Emeritus of the Methodist Church of Nigeria, and first black President of the World Methodist Council (WMC), Dr. Sunday Mbang is dead.
He passed on at the age of 86.
His death was announced in a statement by the Church signed by Secretary of Conference, The Rt. Revd. Dr. Babatunde A. Taiwo on Wednesday.
"With gratitude to the Almighty God for Benevolence and Providence, we announce the translation to Glory of His Pre-Eminence Emeritus and His Eminence Emeritus, Dr. Sunday Coffie Mbang Th.M.Ph.D., CON, etc., Emeritus President of World Methodist Council, Christian Association of Nigeria, Incorporated Trustees of Methodist Church Nigeria and Nigeria Inter Religious Council who joined the Church Triumphant on Tuesday, the 16th day of May 2023, after an impactful Earthly Ministry of 44 years having enrolled at Trinity College, Umuahia in 1962! He was aged 86 years," the statement read.
Mbang who the Church said embodied the pioneering and path finding spirit of Nigerian Methodism was :
1. First Patriarch's Chaplain and Bishop of Tinubu.
2. Only person to be both Patriarch and Prelate.
3. Longest serving Head of Methodist Church Nigeria
4. First Black President of World Methodist Council. 5. First Methodist President of Christian Association of Nigeria.
"He will surely and sorely be missed by his beloved Church, Methodist Church to which he gave spiritual, intellectual and servant leadership for more than two decades, and the entire Body of Christ in Nigeria and the Diasporas.
"He also had the unique and special privilege of being accorded the status of 'Spiritual Father of Akwa Ibom State'!
"On behalf of His Eminence, Dr. Oliver Ali Aba JP, Prelate, Methodist Church Nigeria, the people called Methodists in Nigeria and the Diasporas, we condole with the family and the good people of Akwa Ibom State on this irreparable loss," the statement added.
The first President, Christian Association of Nigeria (CAN) of Methodist Church extraction, according to family sources, died Tuesday night in his sleep after a brief illness.
Former President Olusegun Obasanjo, his close friend and close confidant, was among close allies, who received last prayers and blessings from the revered cleric about two weeks ago, before his passing on Tuesday.
"The late Prelate Emeritus, has not been out for any public function of late, but preferred to receive some important visitors including his best friend, and former President Olusegun Obasanjo, who was one of his few close associates that visited him two weeks ago for prayers and blessings," a family member, who did not want his name mentioned said.
It would be recalled that Obasanjo was in Uyo as special guest of the Akwa Ibom State government to commission one of the longest span bridges completed by the outgoing Governor Udom Emmanuel administration, in Mbo Local Government Area of the state, and later took time off to see Mbang.