The Igbo dilemma in Nigeria's current political dispensation, By Chimaroke Nnamani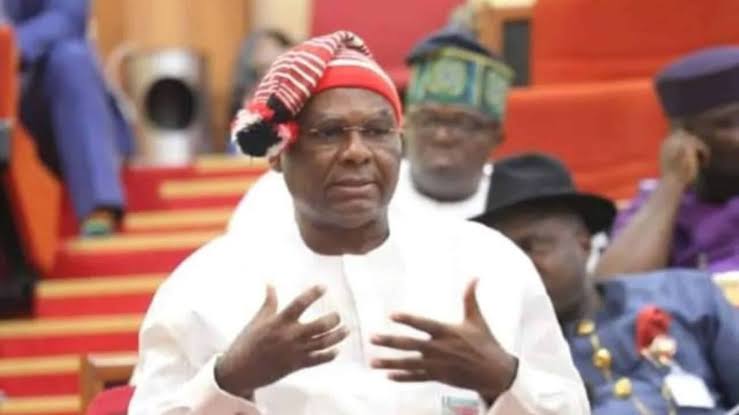 When faced with times like these. Proverbial Fish bone in the throat. Do you regurgitate? Or use a morsel of foo foo to push it down. The tragedy of a Grandma with a broken waist. How do you lift her?
16 years straight Northern rule of Multi Ethnic Nigeria.There are 250 ethnic groups and double that, 500 language groups in Nigeria. Or a Moslem Moslem led MultiEthnic Nigeria with an Oduduwa son at the apex. As always Nigeria's National election is about the National Question.
A National Question on the Nigeria project,16 years domicilation of Nigeria's Presidency in Northern Nigeria.A question in light of accepted norms,culture, history, habit and FairPlay practices of power oscillation between Southern Nigeria and Northern Nigeria in her politics.
The Ethnic question for the Igbo looms large. How do we approach the gates of our Political Damascus?The Igbo Political City of Lights on a Hill. Shiningly, resplendent in the blaze of the Glory of the, Trinity of our Igbo Mythology and World view?
Njepu (Sojourning) Igbambo ( Struggle) and Ako na Uche also described as Akpa Uche (Cot of Reason). This Trinity of our Character, our Igbo forebears have applied, since making contact with the Portuguese in 1443. Europeans described, forest vegetation dwelling Africans around the Bight of Biafra. The Dutch, the English, French came. Subsequently with Bible in one hand and the gun in the other hand. Pillaging our Nation for resources to drive their early primitive economy.
Subterfuge through exploration, exchanging spices, clothes, ornaments and all. Subsequently Gun boat diplomacy conquest of West Niger Igbo. Full throttle trade in our Bodies, the able and non able. And shipment to the new land to fertilize their cotton, rubber, potatoes and land resource. We served at homes, Igbo mothers providing their backs,and energy to nurture their young ones.Igbo maidens in their voluptuous allure, and beauty sired by their youth for pleasure and their elderly men for leisure.
Igbo continued their Igbambo provided Okra,"garri"and other innovative food items. Igbo introduced culinary implements including Pestle and Mortar. Our music was not left out. And in periods of realism and sobriety our lost brethren resorted to music and dance.
And with it came our musical instruments. Our brethren transported their well known republicanism and fervent Palaver to the new Land. Associated with the Igbo Landing in Glynn County Georgia in 1803. At the infamous or rather Famous Dunbar Creek in St. Simons Island.
On learning of the reason for their grueling transAtlantic crossing. The Igbo immediately overpowered their Abusers and traders in humans, took control of their enslavers' ship, killed the American Slave merchants.
The Igbo also walked into the open Atlantic drowning themselves on a spiritual journey back home to the Motherland. 1791 in Saint-Domingue now known as Haiti, a settlement of slaves of Igbo origin mounted an insurrection, a war of independence, that ended in Victory from the French in 1804. I return to the National Question of the proverbial lifting of grandma with a broken waist.16 years straight residency of political power and fulcrum of Federal Government in Northern Nigeria is horrendously troubling to many.
Rt Hon. Dr Nnamdi Azikiwe,an American Sojourner like myself and Rt Hon. Dr Micheal Iheonukara Okpara, when faced with the spectre of continuous Northern Regional domination in a Federated Nigeria, they went West ward. They extended a Handshake across the Niger to the Tribe, that supply the Kolanuts, that the Igbo venerate. The adopted tribe of my American benefactor, teacher, mentor and Patron Saint Emeritus Professor Larry Longo. Deep in their psyche was embedded the knowledge of shared Language Etymology between Yoruba and Igbo.
The Igbo political love story with Yoruba, Nnamdi Azikiwe and Herbert Badmus Macaulay, Samuel Akinsaya, Adegoke Adelabu Penkelemesi, Adeniran Ogunsanya and others. Micheal Okpara, Obafemi and Hannah Awolowo. Fajuyi using his Yoruba life to pay for Ironsi Igbo life.
Social love story of Subomi Balogun and Alexander Ekwueme. While others seized and appropriated Igbo properties during Nigeria versus Biafra War. Yoruba tended to Igbo properties and assets, returned them in full with change, promptly and unsolicited 2nd quarter, 1970.
Life is so hard,it can bring sorrow & sadness to many.Political isolation,victimization and marginalization,even when self inflicted,possibly from poor judgement is a harrowing dilemma.Winston Churchill wrote, "Those that fail to learn from history are doomed to repeat it.
Spanish philosopher George Santayana is credited with the aphorism, "Those who cannot remember the past are condemned to repeat it," History for the Igbo mythologically tells him where the rains started beating him and provides insights into the present and even the future.
-Dr. Nnamani is a former Governor of Enugu State and a serving Senator