Those responsible for crude oil theft must be held accountable – Osinbajo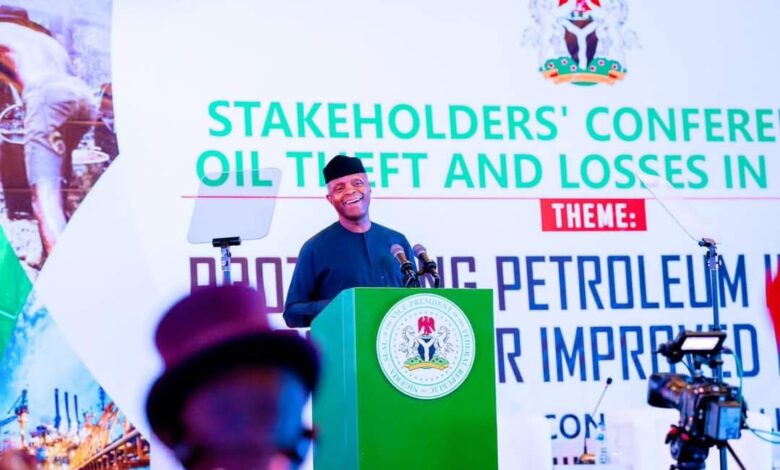 Tackling crude oil theft and sabotage remains a major concern of the Federal Government and those in charge must be accountable because, besides economic consequences, institutional and personal reputations are at stake, according to Vice Presiden,t Yemi Osinbajo.
Prof. Osinbajo stated this on Tuesday in his remarks as Special Guest of Honour at a 'Stakeholders Conference on Oil Theft and Losses in Nigeria', held at the Transcorp Hilton, Abuja.
The VP said: "So grievous a crime cannot simply be a subject of summitry; people must do their jobs and if they are unable to do them, then there must be an accounting for such failures. Institutional and personal reputations are at stake.
"Oil theft and sabotage of oil and gas assets are a clear and present danger to our economy and national security. Not only do they pose a serious threat to oil exploration and our energy economy, but they also impact negatively on revenue accruals to the Federation and the business prospects of investors in the oil sector."
Noting that the Federal Government prioritised the development of the Niger Delta, as well as the protection of oil assets, the VP stated that the theft of crude oil and the accompanying attacks on our energy infrastructure, especially in the Niger Delta, have since the inception of our administration, been of utmost concern.
Against the backdrop of huge production cuts and revenue losses, the Vice President also highlighted the work done by the National Economic Council, which he chairs.
He stated that the Council set up an Ad-hoc Committee to ascertain the magnitude of oil theft and losses in Nigeria and recommend appropriate remedial measures.
"Most of the recommendations of the Ad-hoc Committee informed the Petroleum Industry Act, 2021 and are being implemented. Even so, acts of vandalism of oil and gas infrastructure, oil theft as well as low production yields are still being reported in damaging and unacceptable proportions," he further said.
Prof. Osinbajo noted that President Buhari had enacted the Petroleum Industry Act of 2021 aimed at revitalizing the oil and gas industry.
"Among other things, the Act stipulates elaborate provisions to accommodate the needs of the Host Communities in the oil and gas producing areas. The aim of these provisions is to assuage their sensibilities, give them a sense of belonging and foster unity of purpose with oil companies for the mutual benefit of all," he explained.
Speaking on the theme: 'Protecting Petroleum Industry Assets for Improved Economy', the VP said: "This administration is confronting these acts of economic terrorism on multiple fronts and with a range of tools.
"We have invested significantly in scaling up our maritime security architecture. In June 2021, President Muhammadu Buhari flagged off the Integrated National Security and Waterways Protection Infrastructure Project otherwise known as the Deep Blue Project – a collaborative multiagency effort involving the armed forces, the police and the Department of State Services (DSS), the Nigerian Maritime Administration & Safety Agency (NIMASA), jointly led by the Ministry of Transport and the Ministry of Defence.
"The project provides air, naval and land assets for surveillance, policing, and search and rescue operations in our coastal waters and our exclusive economic zones."
The VP recalled that he was at the Navy Headquarters where he commissioned Falcon Eye, a maritime surveillance facility that networks sensors installed along our nation's coastline. It is designed to provide actionable intelligence in real-time on maritime security threats and enable the swift and preemptive interdiction of criminals.
"Taken together, these two initiatives are huge investments in making our waters safe for energy commerce and inhospitable for the criminals that violate our vital economic interests," Prof. Osinbajo added.
Dignitaries present at the conference included heads of government agencies, oil and gas industry players and traditional rulers.