Tight security as labour unions in Osun protest subsidy removal, high cost of living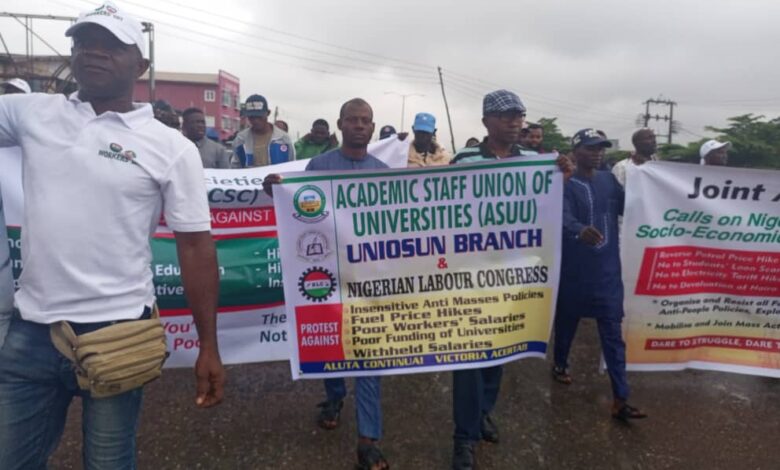 By Deborah Oladejo, Osogbo
The organised labour on Wednesday staged a peaceful protest against the fuel subsidy removal by the President Bola Ahmed Tinubu-led Federal Government.
Joined in the protest were the Osun Civil Societies Coalition (OCSC), the Joint Action Front, Academic Staff Union of Universities (ASUU), Uniosun branch, Nigeria Labour Congress (NLC), National Union of Electricity Employees (NUEE), students" union leaders among others.
There was a heavy presence of security personnel in some strategic locations within the metropolis.
The protesters converged at the popular Freedom Park before moving down to Olaiya under bridge and later proceeded to Aregbesola/Ogo-Oluwa area chanting solidarity songs.
They lamented that the masses were suffering under the present administration with the removal of subsidy and other economic policies, which are unfriendly.
They also called for the unconditional implementation of a new minimum wage across the board and payment of all outstanding allowances and arrears to all categories of public and private employees.
They equally demanded adequate funding of education at all levels.
The protesters noted that it is the government's responsibility to make all the refineries to work and build new ones to ensure availability of petroleum products at cheaper and affordable prices.
Chairman, Trade Union Congress, (TUC) Osun State Council, Adekola Adebowale said: "We are protesting against the anti people policy of the federal government, despite the support the generality gave to the present administration. They stopped the fuel subsidy nobody fought against it, but there must be something to cushion the effects. Unfortunately, this was jettisoned.
"We want things to change for the better, not promises. Only those that have life have hope. If you don't have life, no hope. We will not allow anybody to kill us before we raise our voices."
Waheed Lawal, state chairman of OCSC, called on Nigerians to resist the increase in fuel prices, electricity tariff, and increase in tuition fees.
He said: "We thought we voted for people that will make life meaningful for us, but alas, they made things difficult. As it is now, all of us must come out and let them know that we are not happy with the present situation in the country. This suffering must stop; we must not keep quiet."
Chairman of ASUU, Uniosun branch, Dr. Olaosebikan Wehinde called for the abolition of all the anti-masses policies of the federal government
He also said the federal government should pay ASUU members their salaries.
"We are saying enough to incessant petroleum price hikes. We are saying enough to insecurity. We are saying enough to corruption. We are saying enough to commercialization of education. Nigeria masses are saying enough to abuse of power. We are saying enough to poor workers' wages.
"Politics in Nigeria should be demonitised. We are saying enough is enough to all policies that are bringing suffering to the masses; policies that are capable of dividing Nigeria into different factions. We are here today to communicate to the Nigerian government that the masses are suffering."
Dr. Dipo Fashina,the JAF Chairperson, in a leaflet shared during the protest called for total reversal of the "capitalist policies of privatization and deregulation", which he said had been responsible for non-functioning of local refineries, looting by government officials and fuel marketers through fuel importation and the subsidies' fraud.
Fashina insisted that government, in obedience to section 16 of the 1999 Constitution on economic objectives, should respect the provisions, which states that the "economic system is not operated in such manner as to permit the concentration of wealth, or means of production and exchange in the hands of few individuals or of a group."