Tinubu beats Atiku in Jigawa with 421, 390 votes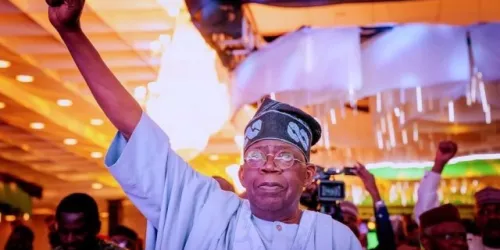 All Progressive Congress (APC) presidential candidate, Asiwaju Bola Tinubu has defeated his closest challenger, Atiku Abubakar of the Peoples Democratic Party (PDP) in the presidential election in Jigawa State.
Tinubu won the election with 421,390 votes to defeat Atiku who scored 386,587 votes in the result declared early Monday morning in Dutse, the capital state capital.
Rabiu Kwankwso of the sNew Nigeria People Party (NNPP) came third with 98,234 votes while Peter Obi of Labour Party scored paltry 1,889.
Details of results from the 27 local government areas:
1. Gagarawa
APC 8,091
LP 29
NNPP 3,770
PDP 8,870
2. Yankwashi
APC 7,920
LP 8
NNPP 480
PDP 6,028
3. RONI
APC 13,073
LP 36
NNPP 622
PDP 8,001
4. AUYO
APC 18,201
LP 26
NNPP 2,889
PDP 13,210
5. Guri
APC 13,594
LP 25
NNPP 5,913
PDP 6,402
6. KIYAWA
APC 18,701
LP 35
NNPP 756
PDP 17,435
7. KAZAURE
APC 9,430
LP 119
NNPP 4,040
PDP 9,827
8. GUMEL
APC 6,696
LP 78
NNPP 3,935
PDP 9,816
9. KAUGAMA
APC 17,506
LP 81
NNPP 4,174
PDP 14,514
10. KIRIKASAMA
APC 15,455
LP 17
NNPP 2,494
PDP 12,691
11. MALAMMADORI
APC 14,586
LP 49
NNPP 2,479
PDP 13,684
12. BUJI
APC 11,867
LP 9
NNPP 343
PDP 10,868
13. SULE TANKARKAR
APC 14,971
LP 24
NNPP 1500
PDP 12,919
14. MIGA
APC 15,293
LP 9
NNPP 950
PDP 12,038
15. GARKI
APC 18,332
LP 39
NNPP 6,870
PDP 9,614
16. TAURA
APC 18,003
LP 134
NNPP 6,082
PDP 11,339
17. Gwiwa
APC 16,309
LP 2
NNPP 165
PDP 7,643
18. MAIGATARI
APC 14,640
LP 34
NNPP 986
PDP 13,973
19. JAHUN
APC 24,338
LP 32
NNPP 2,133
PDP 21,683
20. KAFIN- HAUSA
APC 22,108
LP 32
NNPP 2,108
PDP 20,088
21. BIRNIWA
APC 15,150
LP 29
NNPP 2,196
PDP 12,977
22. DUTSE
APC 16, 739
LP 553
NNPP 2,717
PDP 29, 951
23. BABURA
APC 17,817
LP 71
NNPP 4,600
PDP 14,069
24. RINGIM
APC 18,624
LP 57
NNPP 15,630
PDP 11,213
25. GWARAM
APC 19,026
LP 127
NNPP 12,010
PDP 32,907
26: BIRNIN KUD
APC 22,592
LP 98
NNPP 1,912
PDP 34,792
27. HADEJIA
APC 12,328
LP 126
ANNP 6,480
PDP 10,035