Tinubu, Bode George may reconcile as Olusi, Orelope-Adefulire, Ogunleye others meet PDP chieftain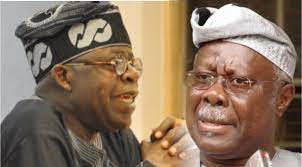 The President-elect, Asiwaju Bola Ahmed Tinubu and a chieftain of the Peoples Democratic Party (PDP), Chief Olabode George may soon reconcile.
Chief George, who is a former Governor of Ondo State and chairman of the Nigeria Port Authority (NPA) has been a virulent attacker of Tinubu over the years.
He also promised to relocate from Nigeria if Tinubu becomes the president.
But the relocation threat may not come to fruition, following a meeting between Chief George and prominent indigenes of Lagos on Saturday.
The meeting was at the instance of a prominent member of the All Progressives Congress (APC), who is also the leader of the Governance Advisory Council (GAC), and a former commissioner in Lagos State, Prince Tajudeen Olusi.
Others at the meeting were the Senior Special Assistant to the President on SDGs, Mrs. Adejoke Orelope-Adefulire; former Deputy Governors of Lagos State, Senator Kofoworola Bucknor-Akerele and Prince Abiodun Ogunleye, former acting Secretary of the PDP, Chief Remi Akitoye; former Minister of Communications, Major General Tajudeen Olarenwaju (rtd); Chief Gbadebo Dallas and Mrs. Onikepo Oshodi.
A former judge of the Lagos State High Court, Justice Ishola Olorunnimbe (rtd) also attended the meeting.
The meeting, it was learnt was called to seek the support of the PDP leader for the incoming administration of Tinubu.
After the meeting, Chief George commended the elders for the peace conversation, adding that it is a positive step towards a new Lagos.
Reacting to the request made by the APC leaders urging him to cease further attack against Tinubu, the PDP leader said he has nothing personal against the President-elect.
He said: "Let me say there are no political differences. Justice Olorunnimbe is like a father; we respect our fathers in Lagos. When I got an invitation from Papa Olusi that he wanted to come and see me for the first time, I told my friend who delivered the message that I should go and visit him and not the other way round. But Papa Olusi said he had to come and see and that it had to do with the situation in Lagos.
"This is the second time Papa Olusi is visiting. We had detailed discussions that bothered the unity of Lagos. I must say we re-established the fact that the culture of Lagos is to accept and accommodate other tribes.
"Secondly, on the details of us working together, because a divided house will be defeated, I have explained to Baba Olusi that there is no problem about working together. The kind of platform we are trying to have is for a unity of purpose in Lagos State, irrespective of party affiliations.
"On the bottom line, you are a Lagosian though we can have different political affiliations.
"Now, they came for three things: they talked about my running battle with Tinubu, and I said I have no struggle, nothing personal between him and me.
"What had happened has gone; vengeance is not mine but the almighty God. We will have differences and disagree, but we must not be disagreeable.
"They made a request which we are all looking at. They requested that someday we congratulate Asiwaju, and we said yes, but that I belong to a political party. They are all in the courts now. Let us finish the court cases. Whichever way that goes, the issue of congratulating him or not will come to fruition. I have nothing personal, and nothing happens without the almighty God. As a believer, that is my school of thought.
"This union and discussion we have had is a positive step towards a new Lagos."
Chief Olusi, who also spoke said the main purpose of the meeting was to seek the collaboration of George and other elders for the development of Lagos State.
He said: "This is a gathering of eminent Lagosians and this is my second coming to meet with Chief Olabode George. The president-elect of Nigeria is Asiwaju Bola Tinubu, a former Senator from Lagos.
"However, we know that the relationship between the President-elect and Chief Olabode George is not cordial. We think it is essential that, as leaders of the community, we should take steps to improve the relationship. Therefore, I got an appointment with Chief George on May 1, 2023, to discuss and request a further meeting.
"I also requested that a former justice in Lagos State, Justice Olorunnimbe (rtd), be here to put his elderly posture as well as his experience in ensuring that we have a cordial discussion with Chief Bode George.
"The meeting has been cordial and valuable, and I can tell you that we have agreed on the mission of this delegation that we, in Lagos with Chief Bode George, should give our support to the President-elect as soon as he assumes office on May 29 as the president of Nigeria for the good of Lagos and betterment of the country.
"That is the purpose of our discussion, and it has been successful."
Justice Olorunnimbe, who brokered the peace parley, described the meeting as fruitful.
Olorunnimbe said: "The discussion was cordial, frank, and engaging. There is a consensus that we, as community leaders, must cooperate. Chief Bode George, in his usual human approach, hosted us, and we had a fruitful discussion that would benefit us all.
"Let me make it known that this is not a political meeting but a meeting of elders of the Lagos community, discussing with another elder statesman, who all of us have great respect for."