Tinubu committed to improving lives of vulnerable Nigerians, says Shettima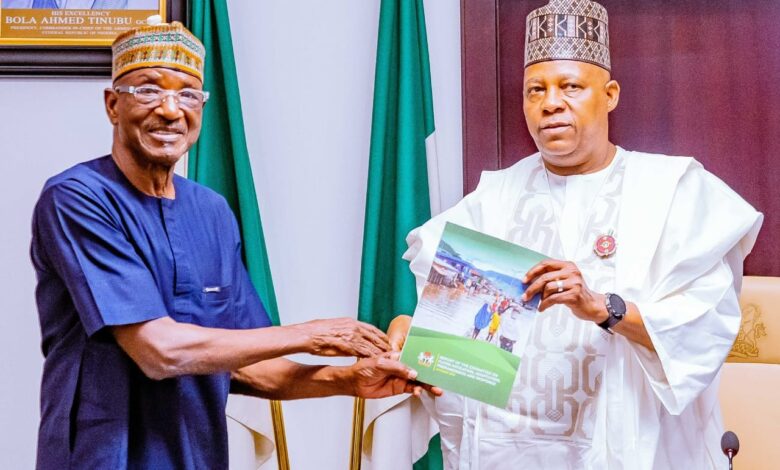 Vice President Kashim Shettima has restated President Bola Tinubu's commitment to the Renewed Hope Agenda and his administration's focus on improving the socio-economic conditions of Nigerians living in the most vulnerable communities in the country.
He spoke on Tuesday when the Presidential Committee on Flood Mitigation, Adaptation, Preparedness and Response submitted a comprehensive report to him at the Presidential Villa in Abuja.
The committee's report outlines a roadmap for improving the country's flood response and preparedness.
The report is based on the findings of three previous and ongoing assignments, including the National Economic Council Ad hoc Committee Report on Flood (ongoing), the National Flood Emergency, Preparedness and Response Plan (2022), and the Report of the Presidential Committee on Development of Comprehensive Plan of Action for Preventing Flood Disasters in Nigeria (2022).
At the formal presentation of the committee's report, the Vice President gave a definite position to speculations about the reality or otherwise of the impact of climate change in Nigeria.
He said, "Climate change is real and the existential threat it poses is glaring at us every day, from the extreme events being witnessed across the globe to the devastating climate facing Africa. Africa is disproportionately impacted and bringing it home to Nigeria, we have been witnessing drought, flood, etc. The saying on the climate crisis is that it is either too much (floods), too little (drought) or too polluted.
"We are all gathered to find a solution for the "too much" scenario that is flooding. Flood events have, in the past, affected communities with devastating impacts on livelihoods, people and the environment with loss of lives witnessed in some cases such as the last flood witnessed in 2022″.
Describing the report as a testament to President Tinubu's commitment to the Renewed Hope Agenda, VP Shettima stated categorically that the Tinubu administration is focused on improving the socio-economic conditions of Nigeria's most vulnerable communities.
The Vice President noted that in drafting the report, the committee was guided by science and forecasts from agencies such as the Nigerian Meteorological Agency, the National Space Research and Development Agency and the Nigeria Hydrological Services Agency.
The report, according to him, identifies vulnerable communities prone to flooding and presents a roadmap with recommendations to address the issue.