Tinubu leads in Ogun, wins 10 LGs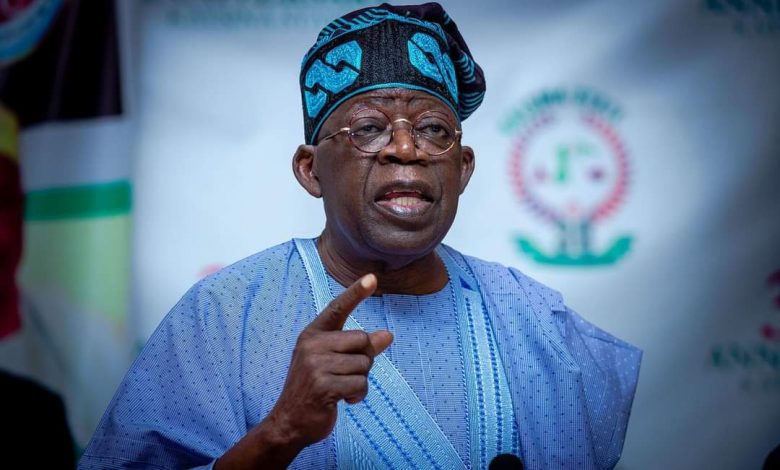 Presidential candidate of the All Progressives Congress (APC), Asiwaju Bola Ahmed Tinubu is currently leading candidates of other political parties from the presidential results declared so far in Ogun State.
Tinubu has won all the 10 local government areas declared, polling 121,879 votes while the candidate of the Peoples Democratic Party (PDP), Atiku Abubakar is trailing behind him, with 43,948, while Peter Obi of Labour Party got 24,112.
The results were announced by INEC's collation officer according to local governments.
The 10 local government results declared so far are: Remo North, Ikenne, Egbado South, Ewekoro, Abeokuta North, Ijebu North, Ijebu North-East, Imeko Afon, Odeda and Ijebu-Ode local government areas.
The Resident Electoral Commissioner (REC) in the state, Niyi Ijalaye had earlier declared opened the state collation centre.
He also announced the Vice Chancellor of the University of Ibadan, Prof. Kayode Oyebode Adebowale as the collation officer for the state.
The results are as follows:
1. REMO NORTH LG
Registered voters: 48,886
Accredited voters: 11,148
APC: 5,814
PDP: 3,627
LP: 984
NNPP: 22
ADC: 71
Total valid votes: 10,665
Rejected votes: 478
Total votes cast: 11,143
2. IKENNE LG
Registered voters: 67,914
Accredited voters: 20,126
APC: 9,431
ADC: 115
PDP: 6,616
LP: 2,678
NNPP: 39
SDP: 07
Total votes cast: 19,159
Rejected votes: 967
Total votes cast: 20,126
Four polling units cancelled due to violence, destruction of election materials such ballot boxes and papers and over voting.
3. EGBADO SOUTH
Registered voters: 133,001
Accredited voters: 31,192
APC: 18,471
ADC: 342
PDP: 5,012
LP: 3,126
NNPP: 117
Total valid votes: 29,518
Rejected votes: 1,672
Total votes cast: 31,190
4. EWEKORO LG
Registered voters: 17,521
Accredited voters: 18,411
APC: 9,778
ADC: 1,247
PDP: 3,646
LP: 2,287
NNPP: 79
Total valid votes: 17,521
Rejected votes: 876
Total votes cast: 18,397
5. ABEOKUTA NORTH
Registered voters: 167,753
Accredited voters: 33,027
APC: 20,094
ADC: 1,285
PDP: 5,057
LP: 4,092
NNPP: 104
Total valid votes: 31,275
Rejected votes:
Total votes cast:
6. IJEBU NORTH
Registered voters: 133,122
Accredited voters: 34,035
APC: 21,844
ADC: 300
PDP: 7,233
LP: 2,372
NNPP: 50
Total valid votes:
Rejected votes:
Total votes cast:
7. IJEBU NORTH-EAST
Registered voters: 52,457
Accredited voters: 13,206
APC: 7,430
ADC: 135
PDP: 2,85
LP: 1,779
NNPP: 19
Total valid votes: 12,522
Rejected votes: 683
Total votes cast: 13,205
8. IMEKO AFON LG
Registered voters: 70,223
Accredited voters: 18,411
APC: 12,146
ADC: 143
PDP: 4,560
LP: 568
NNPP: 32
Total valid votes: 17,639
Rejected votes: 762
Total votes cast: 18,411
9. ODEDA LG
Registered voters: 94,048
Accredited voters: 22,068
APC: 12,945
ADC: 425
PDP: 3,855
LP: 3,064
NNPP: 73
Total valid votes: 20,917
Rejected votes: 1,123
Total votes cast: 22,040
10. IJEBU-ODE
Registered voters: 90,760
Accredited voters: 25,028
APC: 16,072
ADC: 188
PDP: 4,057
LP: 3,162
NNPP: 56
Total valid votes: 24,058
Rejected votes: 882
Total votes cast: 24,940
One cancellation due to over voting