Tinubu seeks cooperation of all Nigerians to achieve 'Renewed Hope' agenda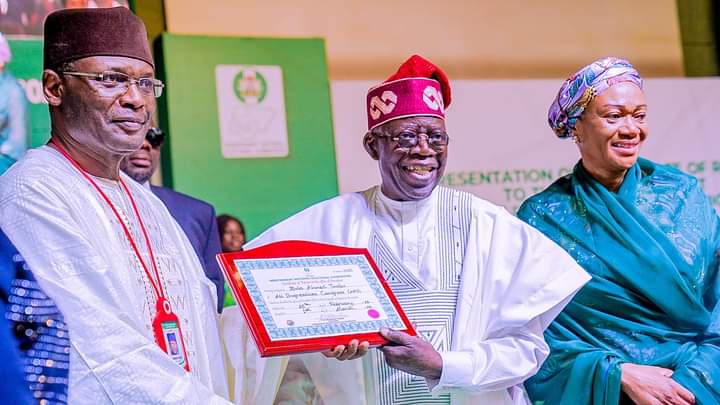 President-elect Asiwaju Bola Tinubu has asked all Nigerians irrespective of political leanings to give him the needed support in achieving his "Renewed Hope" agenda for the nation.
In a statement he personally signed titled "At the Cusp of Renewed Hope", Tinubu said it was normal for many to be disappointed that their candidates didn't win.
He, however, said for the growth of the country, it is important that all put their hands on the deck to move the nation forward.
He said: "A fair, credible election has been held and has been won. The honor of that victory and the steep responsibility it entails has fallen on me. I say this not to gloat or boast because there is no room for such behavior. I merely state the facts as they are.

"I realize  many good and well-meaning Nigerians voted for other candidates. They are naturally disappointed that their favored candidate did not win.  Other candidates have voiced their dissatisfaction, stating they will go to court to contest the election.  This is inherent to the democratic process. We defend their right to seek legal recourse. While they exercise the legal rights afforded them in our democracy, I have set my course and mind on the leadership of this nation. We have important work to do and I am committed to getting that work done for the benefit of all the people, whether or not they voted for me or even voted at all.

"This is not the time for continued acrimony and partisan recrimination. These negative things can incite strong passions; but they are not the pathway to a better nation. Only unity and national commitment can serve that purpose."

He added that as Nigerians, irrespective of political divide, what should concern everyone is to rebuild Nigeria.

"What must concern us is not the growth of parties but the regrowth of old prejudices  and bigotries such as  ethnicity, creed and place of origin.  As a nation and as individuals imbued with the love of God and of our fellow man, we are better than this. At some point we must decide whether we shall be enticed by the ills of the past or shall we more bravely and nobly be encouraged by the eminent prospect of a brighter future.  
"We must begin to repair and rebuild this national home of ours. There is time to complete the task,  but time is also of the essence. We must not tarry or fret over the enormity of what we face," he said.