Tinubu seeks Germany Chancellor Olaf Scholz's support in terrorism fight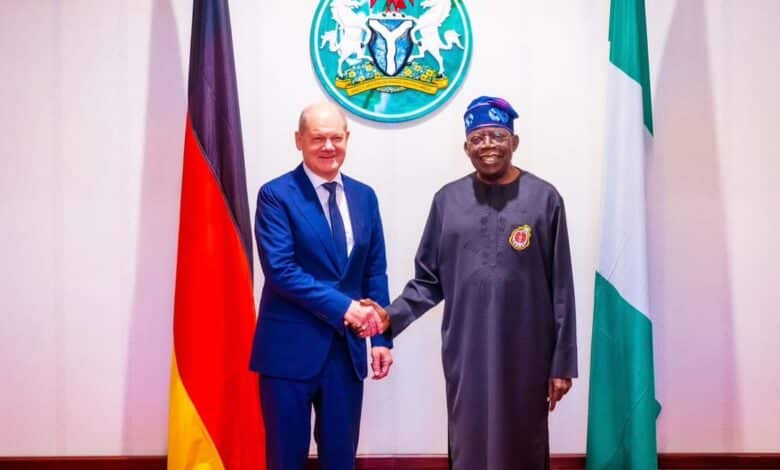 President Bola Tinubu, on Sunday, asked the German Chancellor Olaf Scholz for help in battling terrorism in Nigeria.
Tinubu made the request at a meeting with the German chancellor held at the Presidential Villa, Abuja.
"We are fighting terrorism, and that is improving," Tinubu said.
"We still need more support in that area. And for us to be able to sustain democracy, the rule of law and freedom for our people, we need to fight for democracy.
"And democracy must win at all times for us to meet the expectation of an African dream. That is why your visit this time around is more than necessary."
Tinubu, who recalled coups in Guinea and Niger Republic, said that while the problem was being addressed "diplomatically," the German chancellor's cooperation was required.
"We thank you for the past contributions, particularly on police and law enforcement training. We need more help. And we'll discuss further today," Tinubu added.
"The distraction is over. This gives us more time to focus on governance for the people and moving Nigeria forward for economic opportunities and prosperity that will defend democracy."
The president said the economic team set up by his administration will partner with Germany, which is the largest economy in Europe.
On his part, Mr Scholz expressed the commitment of Germany to democracy and the rule of law.
"We will examine how we can continue to support you in doing the best and having these insecurity questions in your country as well.
"We will go into details later, but I can assure you that we will continue our support and our cooperation in this field," Scholz said.
He said one of the main aspects of cooperation between the two countries would be developing the economy and using the economic opportunities of Nigeria.