Tinubu urges ministers to prioritise national development over personal ambitions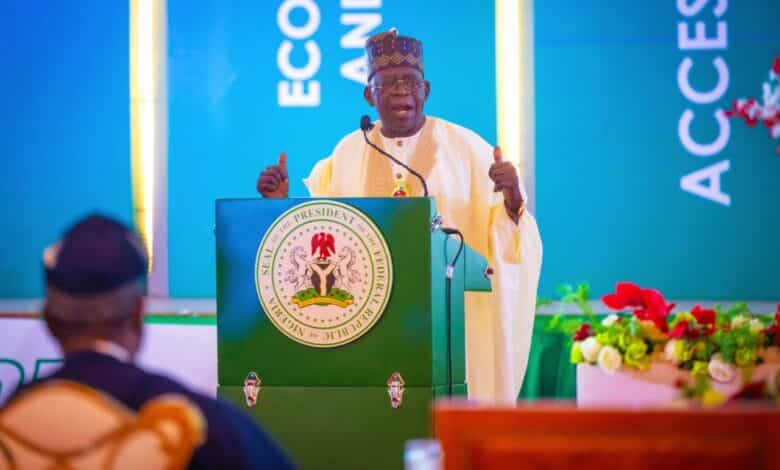 President Bola Tinubu has called on the ministers and other cabinet members to set aside personal ambition and individual aspirations, calling on his appointees to prioritise the advancement of the nation.
The President said this while giving his closing remark at the three-day Cabinet Retreat, on Friday in Abuja.
The President has also directed that the Presidential Delivery Tracker be reactivated, allowing Nigerians to watch the progress of projects around the country in real time.
The President said that his determination to ensure the active and direct participation of citizens in governance is unwavering, noting that all Nigerians must be given the opportunity to track and report on the implementation of projects across the country.
In order to maximise the use of cutting-edge digital innovation and give real-time oversight capabilities for the benefit of all Nigerians, President Tinubu said he has requested Hadiza Bala Usman, his Special Adviser on Policy and Coordination, to immediately reactivate the tracking system.
WesternPost reported on Wednesday that President Tinubu announced that he had established a Result Delivery Unit initiative to be headed by Bala-Usman.
In addition, President Tinubu reorganised his administration's agenda, emphasising the following areas: "accelerating diversification through industrialization, digitization, creative arts, manufacturing, and innovation; strengthening national security for peace and prosperity; boosting agriculture to achieve food security; unlocking energy and natural resources for sustainable development; focusing on education, health, and social investment as critical pillars of development
As a result, President Tinubu asked the ministers to focus on realigning Nigeria's economy, giving education top priority, and guaranteeing that Nigerians receive high-quality health care.
Additionally, the President underlined the significance of data in governance, stating that "effective governance is dependent on data." It helps us to comprehend the difficulties we encounter in order to create and carry out efficient solutions as well as track and assess our advancement. Without information, we are in the dark."
"I want to reiterate that the Renewed Hope Agenda is about more than just economic growth. It is also about building a more just and equitable society for all Nigerians. It is about creating jobs, improving education and healthcare, and reducing poverty. It is about ensuring that all Nigerians have the opportunity to succeed.
"I know that we have a lot of work ahead of us, but I am confident we can achieve our goals. We have a strong team in place, and we are committed to working together to build a better future for Nigeria.
"Let me remind you that our people are not interested in excuses, political games, or procrastination. Neither am I. They are interested in tangible results. They seek solutions to the problems that have long plagued our great nation. The challenge before us demands that we put aside personal ambitions and focus on adhering to the performance bond we have all signed up for on this day. These performance bonds represent a contract we must uphold," the President said.
Earlier, the Secretary to the Government of the Federation, George Akume, read the main takeaways from the retreat's technical sessions.
Akume emphasised plans and priorities for rebuilding the economy to generate sustainable inclusive growth, as well as ensuring the annual budget is in line with strategic priorities.
"Intensify efforts to block revenue leakages in the police force. o Engage with governors to strengthen security at local government levelswhile addressing issues of autonomy and governance. Prioritize the clean-up of Ogoni communities, and boost Agriculture to achieve Food Security," he said.