Tinubu's media adviser, Rahman bags International MBA, seeks education reform
Tunde Rahman, the media aide to the President-elect, Asiwaju Bola Tinubu, has bagged an international Master in Business Administration (MBA) from the prestigious University of Leicester in the United Kingdom.
Rahman, who shared this on his verified Facebook wall, sought the reform of Nigeria's education system and the redesign of the academic curriculum to speak to the current reality in the society.
Sharing his experience, he said: " After 3 years of painstaking efforts- glancing through materials on Leicester Blackboard in between work, closing late nights only to resume at home behind the computer, attending lectures, masterclasses and workshops, undertaking group or team tasks, reading, researching, sharing ideas, taking examinations and occasional travels to Leicester – it's now in the kitty – MBA from the University of Leicester.'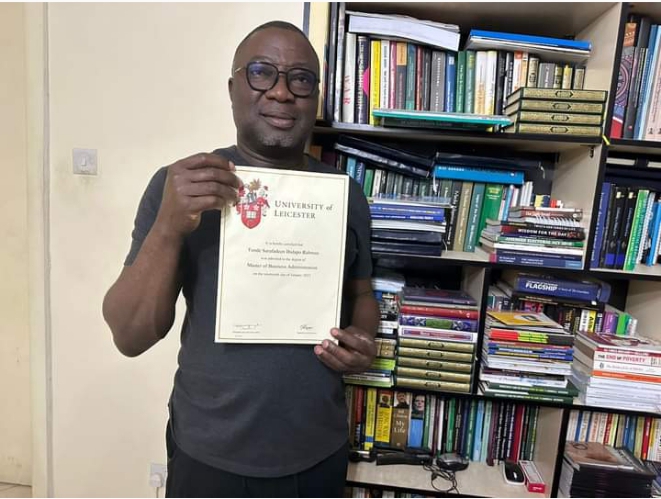 "'A few times, I felt like quitting. I carried on nonetheless. The more I did the more punishing and challenging it became. I completed it, making the second Masters after the MSC Communications from the Lagos State University (LASU), Ojo.
"One or two things are remarkable. One, the lectures are conversational and interactive. As much as they want to impart knowledge and let you into new developments and trends with appropriate case studies, they are also eager to understand and learn from your own perspectives and situations. Two, their processes are seamless and structured to suit every situation and circumstance.
"'For instance, I could not make the graduation on January 19 because we were in the middle of preparations for the election and it was too close to the February 25 poll, my certificate was mailed to me at no extra cost. To God be the glory, I received it in my house yesterday.." We have a lot to do to reform our education, the curricula, the systems and processes, President-elect Bola Tinubu, the National Assembly, University authorities, teachers and students all have a lot to do.'
'We can't just continue like this. The quality of education is daily going South. We all have a responsibility to halt the drift."