Train accident: We warned BRT driver to wait but he shouted at us-Survivors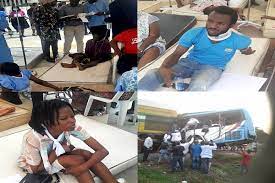 Survivors in the accident involving a train and BRT bus in the Shogunle area of Ikeja, Lagos State, have blamed the driver of the bus for being reckless while trying to cross the PWD rail line.
A survivor, Kazeem Abiola, disclosed that the BRT bus was midway through the rail at the Shogunle level crossing when the train crashed into it on Thursday morning.
The bus was carrying Lagos State civil servants. Governor, Babajide Sanwo-Olu said six people died in the accident, while 79 others were injured.
Tthe injured workers have since been receiving treatment at LASUTH.
The governor, who said the accident was an avoidable incident, revealed that 85 people were in the bus when the accident occurred.
Abiola said the bus had sped past the train around Ladipo Bus Stop on the Old Agege Motor Road, adding that they (occupants) warned the driver to slow down and wait for the train when they got to the PWD level crossing.
"He shouted us down, thinking he could speed past before the train would catch up with us.
"We warned him to allow the train to go, but he was adamant. Everybody was shouting, cautioning him, but he cared less.
"Half of the bus had crossed the rail track before the train hit us. The last I heard was the crash and I passed out.
"I regained consciousness here (Lagos State University Teaching Hospital Emergency Unit)," he stated.
Also speaking on the incident, an official of the Lagos State Emergency Management Agency (LASEMA), Anuoluwapo Musa, revealed that he sat at the back of the bus when the accident occurred
"I heard the bedlam as those in the front row were shouting down the driver. Not quite long, we were hit by the train.
"I was conscious enough to jump out of the bus while the train was still dragging our bus on the rail track," Musa said.