TRAVELOGUE: Mosi oa Tunya: an ecological splendour and the painful paradox, By Omoniyi Ibietan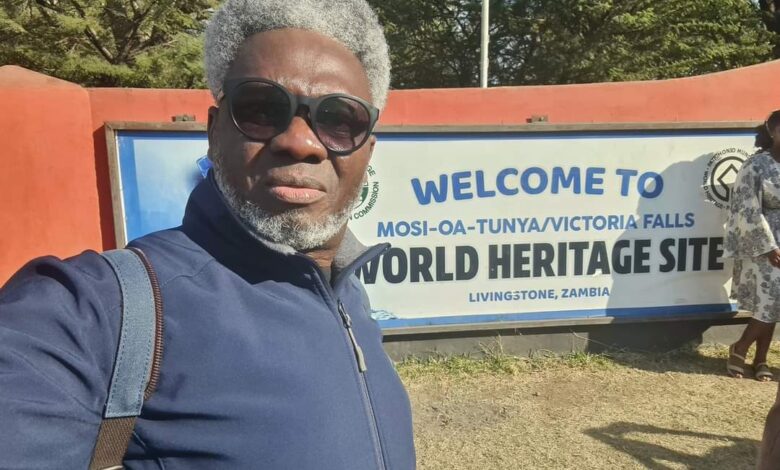 The denouement of the annual conference of the African Public Relations Association (APRA) is usually a tour of the host country's most memorable sites, either in natural locales or in the built environments.
So, in concluding the APRA Lusaka Conference of 2023, we set out on a long journey of about 8 hours drive from Lusaka to the town of the waterfalls originally known as 'Mosi ao Tunya' (the smoke that thunders). It is a breathtaking waterfall already designated by UNESCO as a world heritage site, but the town is now called Livingstone, named after the missionary, David Livingstone. Livingstone was possibly the Victorian era's most famous Scottish, who is, at once, a physician, a Christian missionary, and an explorer.
A discussion with a member of APRA who said Livingstone discovered Victoria Falls gave me an inkling I was embarking on a mentally engaging journey. "No, I retorted. He couldn't have found the Falls. He was probably the first non-African of the Caucasian kind to see the waterfalls". I told my sister from a southern African country, with whom I was having the conversation, that African people have lived for centuries in organized societies before the coming of the colonialists. I reminded her of the introduction to my paper at the Conference, where I relied on the irrefutable works of Cheikh Anta Diop to refute Hegel's poor conception of African history.
I told her that the most notable sciences, including Mathematics, started in Africa, and many Greeks, including Pythagoras, Thales, Plato, and Aristotle, studied in the Egyptian Mystery Schools that focused on philosophy and the sciences. I was emphatic that there is no argument about the African origin of human civilization, including the fact that the original people of Egypt are unarguably 'Black'.
Besides their pigmentation, the ancient Egyptians' noses were indeed flat like mine and that explained the deliberate destruction of the noses of the human figurines like The Great Sphinx at Giza and elsewhere, by irredeemable bigots and nihilists who wanted to pervert African history. Because my discussant is a lady (physically and biologically), I also referred her to the pioneering works of the Nigeria philosopher, Prof. Sophie Oluwole, particularly, "Socrates and Ọ̀rúnmìlà: Two Patron Saints of Classical Philosophy", where I gleaned that Orunmila, the Yoruba deity of knowledge and wisdom, was more sagely than Socrates despite their similarities.
Our journey progressed, though there were no sufficient, quite sightly things to see as we commuted through Mazabuka, Monze, Choma, and Kalomo. Nevertheless, it was a good, pleasurable ride on the 60-seat classical coach, the type I had used between New York and Bowie in the US two decades ago. We had music (mostly Nigerian), movies (I remember Black Diamond), and drinks of all varieties as we journeyed. We also stopped at two major towns (while going and when returning), so people can use washrooms, (though there is an aircraft-type convenience on the bus), and to buy snacks and other foods. But we had enough to keep our mouths busy with foods. Zambia is a nation of astonishingly hospitable and kind people. If most of us were destined to die from overeating, we would have perished in Zambia.
Anyway, as we approached the city of the location of Mosi ao Tunya, otherwise called Livingstone, my colleague and I resumed our conversation. She had been busy making us comfortable.
So, when I found her much relaxed and free, and as we got closer to the city of 'the smoke that thunders', (because of the palpable eruptions and smoky features that attend the waterfalls), I asked my APRA colleague: "Do you think it is proper for us to continue to call this city, Livingstone and the waterfalls, Victoria Falls?".
To assure my mate that I did not set out to denigrate southern Africa but actually bemoaning the pan-African phenomenon of acquiescing to Western tendency to distort the African heritage, I cited examples of many nauseating vestiges of colonialism across Africa, including Nigeria where we have one of our nation's choicest city hubs, named Victoria Island, and one of our cutest, cosmopolitan cities (the very largest in the Niger Delta region), Port Harcourt, a name derived from Lord Harcourt, a one-time colonial secretary in London. My colleague responded that she got my point, but it is what it is. So, I told her it's time we started an intentional process of rebranding historical phenomena that have been improperly branded.
By my reckoning, in splendour, magnitude, and significance, Mosi ao Tunya is more astonishing than Niagara Falls, the North American 'cataract crescent-shaped' equivalent of Mosi ao Tunya that further binds the United States of America and Canada, the way its African type binds Zambians and Zimbabweans. New Yorkers remember Niagara Falls once they remember Niagara River, the way Zambezi river is ever in the consciousness of Zambians, Zimbabweans, Angolans, Mozambicans, Congolese, and even Namibians.
Indeed, like the city in Zambia where Mosi ao Tunya is partly located by nature, Niagara is equally a city in a region southeast of the Province of Ontario in Canada. Its name, Niagara, is a derivative of Iroquoian word, "onguiaahra," meaning 'thunderous noise'. After all, Mosi ao Tunya also means 'smoke that thunders. Indeed, anyone who has visited Niagara and Mosi ao Tunya will agree that noises produced by the Falls are as thunderous as they reverberate. The Iroquoian language is genotype and therefore constitutive of the group of languages of the indigenous people of North America. Coincidentally, it was also missionaries that anglicized 'ONGUIAAHRA' as Niagara.
In the case of Livingstone, he was either less intelligent or he deliberately decided not to find an approximate word in English as a substitute for 'MOSI AO TUNYA', the way his tribe had done in North America. He simply named another people's heritage 'Victoria Falls', and even worse, the city of the Falls has been named after him.
This is what our people call insult upon injury. As if it wasn't tragic enough that the nations of Zambia and Zimbabwe were hitherto called Northern Rhodesian and Southern Rhodesia respectively, taking their colonial names from Cecil John Rhodes, the brutal, crazily inordinately ambitious light of British ravenous exploitation, and her insatiable imperialism. Rhodes who was so central to the annexation of many parts of southern Africa by the British.
The Zambezi River, one of Africa's largest bodies of waters, with its majestic flow, descends rapidly into the uncommonly deep Kariba gorge, creating eternal thunderous noise before continuing its flow towards Kariba Dam, where science met nature to provide the people of Zambia their major source of electricity, some of which are exported to neighbouring countries, particularly South Africa. Ironically, as nature works, during certain periods of the year, Zambia also suffers from energy crises and resort to rationing. I believe there is wisdom in harvesting the sun for solar power and other alternate sources of energy to mitigate shortage. No country in Africa should suffer a perennial energy crisis. After all, Niagara Falls continued to be a source of power generation in North America, even as I write.
Zambezi River also continued to be a source of ecological support for an array of human activities and, of course, animals, many of which would have been extinct, like rhinoceros, hippopotamus and elephants. The river continued to be a source of life for floral and fauna elements of that ecosystem.
But the waterfalls remain quite defining in any narration of the Zambezi River. Across the gorge and a river flowing from the Falls is a bridge and a rail line at that particular border of Zambia and Zimbabwe. The bridge also serves as operating point to those who are willing to take the risk of 'bungee jump' and a terminal point for those who wish to travel on 'zip line'.
But another thing of interest is a bridge, the Knife Edge Bridge, across the gorge, close to rhe Falls. The narrow foot bridge, maintained by Zambian breweries, provides the link to those who want to explore the boiling point of the waterfalls. After the bridge, there are hundreds of man-made steps that lead to the boiling point where the ground impacts of the Falls are more visible partly in the incredible bubbles they create on the ground.
On the bridge, at certain periods of the year, depending on the water level of the Zambezi river, the waterfalls cause huge splashes of waters to create a perpetual rainfall on the Knife Edge Bridge. Anyone who crosses the Knife Edge Bridge will certainly be drenched.
As I explored the Knife Edge Bridge, I recalled the story I was told about my paternal grandfather, Peter Atoyebi Ibietan, who passed long before my birth. He was a community leader and mobilser. I hear he was a very neat man and stylish dresser but importantly, he was central to mobilising the community to construct the only bridge connecting my homeland of Ogidi, Ijumu, with Kabba. I am told of my grandpa's exploits as an active participant in that project but I don't know if anyone died during the project. My village bridge project certainly falls into insignificance compared to the Knife Edge Bridge though the later is a foot brigde. By any element of contention, the construction of the Knife Edge brigde across the Kariba gorge is one of the most courageous acts of men.
However, a scarier reality is the exploration people undertake on the Zambezi river, just before the waterfalls. A portion lies close to the Falls and was hitherto called the Devil's Pool, renamed Angels' Pool, where people can actually swim with the guidance of lifesavers who ensured no one crosses a particular point towards the falls, otherwise such life ends there, because it is impossible for anyone to survive a fall into the gorge. To get to the Angels' Pool requires travelling via a canoe across the Zambezi river just before the water cascades that flow to the falls. The canoe drops adventurers off on the other side, where the masters of the pool guide people through the exploration process. Indeed, everything about Mosi ao Tunya is mind-boggling.
Regrettably, not much in terms of earnings have come from the tour or cruise on Zambezi River and the waterfalls, both on the Zambian and the Zimbabwean sides. In Europe and North America, countries earn much more from tourism than we do in Africa.
In one of the presentations at the APRA conference, African countries have been found to earn far less than 10 per cent of what countries in the other hemisphere earn from tourism. Suffice it to say that, as we strategise on rebranding our continent and for our historical and endowed sites to bear befitting names, we must have a rethink about how Africa can prosper appropriately from her endowments.