TRIBUTE: Life, times of late Alaafin of Oyo, Lamidi Adeyemi
The world woke up to the sad news of the death of Alaafin of Oyo, Oba Lamidi Adeyemi III on Saturday after living for 83 years.
The late monarch was said to have died at the Afe Babalola University Teaching Hospital, Ado Ekiti, late on Friday after a brief illness.
He was the longest serving Alaafin.
Birth and early life
The late Alaafin was born Lamidi Olayiwola Atanda Adeyemi to the Alowolodu Royal House on October 15, 1938 in Oyo town during the reign of Siyanbola Onikepe Ladigbolu I to Prince Adeniran Adeyemi who ascended the thrones of his fathers in 1945 as Oba Adeniran Adeyemi II. His mother named Ibironke died when the late monarch was very young.
His father was deposed 11 years after ascending the throne due to political differences between him and the Chief Obafemi Awolowo led Action Group government of the day over his sympathy for the National Council of Nigerian Citizens (NCNC).
The young Lamidi Adeyemi had a brief training in Quranic knowledge in Iseyin and also lived under the tutelage of Pa Olatoregun- An Anglican school teacher and headmaster of St. Andrews Primary School, Oyo, and disciplinarian, all in an effort for young Lamidi, to learn the rope of traditional kingship, statesmanship and dignifying royalty.
Oba Lamidi Adeyemi, in the quest of this preparation for royalty, was at an early age, sent to Abeokuta to live with Oba Adedapo Ademola and had some part of his early education in Ake Palace Elementary School. Until his death, Oba Adeyemi spoke Egba dialect fluently.
Lamidi Olayiwola Adeyemi, at a later date in his adolescence, also lived with a Lagos Aristocrat, his father's friend- Sir (Dr.) Kofo Abayomi and his wife, Lady Oyinkan Abayomi. He also attended St. Gregory's College, Lagos- a Catholic School.
The young Lamidi Adeyemi, was living with Oba Samuel Oladapo Ademola II, the Alake of Egba Land in the Ake palace, between 1947 and 1948, when the Egba Women's Union, led by Mrs. Funmilayo Ransome Kuti, protested against payment of taxes without representation. The protest forced the then Alake into exile, with Lamidi Adeyemi following him to exile.
While in Lagos, the young Lamidi Adeyemi was a boxer.
Sometime in early 1960, Lamidi Olayiwola Adeyemi, secured admission to study law in the United Kingdom. He got a loan through Dr. Nnamdi Azikiwe, his father's friend, from the African Continental Bank, (ACB) Yaba Lagos and was to proceed to the United Kingdom, when unfortunately, his father, Alhaji Adeniran Adeyemi, died, 48 hours to the London trip on the 14th of February, 1960, at the age of 88 years.
The death of his father truncated his ambition to study Law in the United Kingdom. He later became an insurance executive with the Royal Exchange Assurance Limited, Marina Lagos, where he rose steadily.
It was while he was an insurance officer that the throne of his forefathers beckoned on him.
Ascension to the throne
The stool of the Alaafin became vacant in 1968, following the exit of Oba Bello Gbadegesin Ladigbolu, who joined his ancestors, after 12 years on the throne. He hailed from the Agunloye ruling house and thus, it was the turn of Adeyemi Alowolodo Ruling house, to produce the next Alaafin. As an aftermath of Adeniran's exile, Lamidi's ascension to the throne was almost a near miss.
Lamidi Adeyemi contested with 10 other princes for the coveted throne of the Alaafin, in a keen competition, that started in 1968 and did not end until November 18, 1970, when he was officially pronounced the Alaafin of Oyo by the Western Region Government of Colonel Robert Adeyinka Adebayo, at the age of about 32 years. He was crowned on the 14th January, 1971.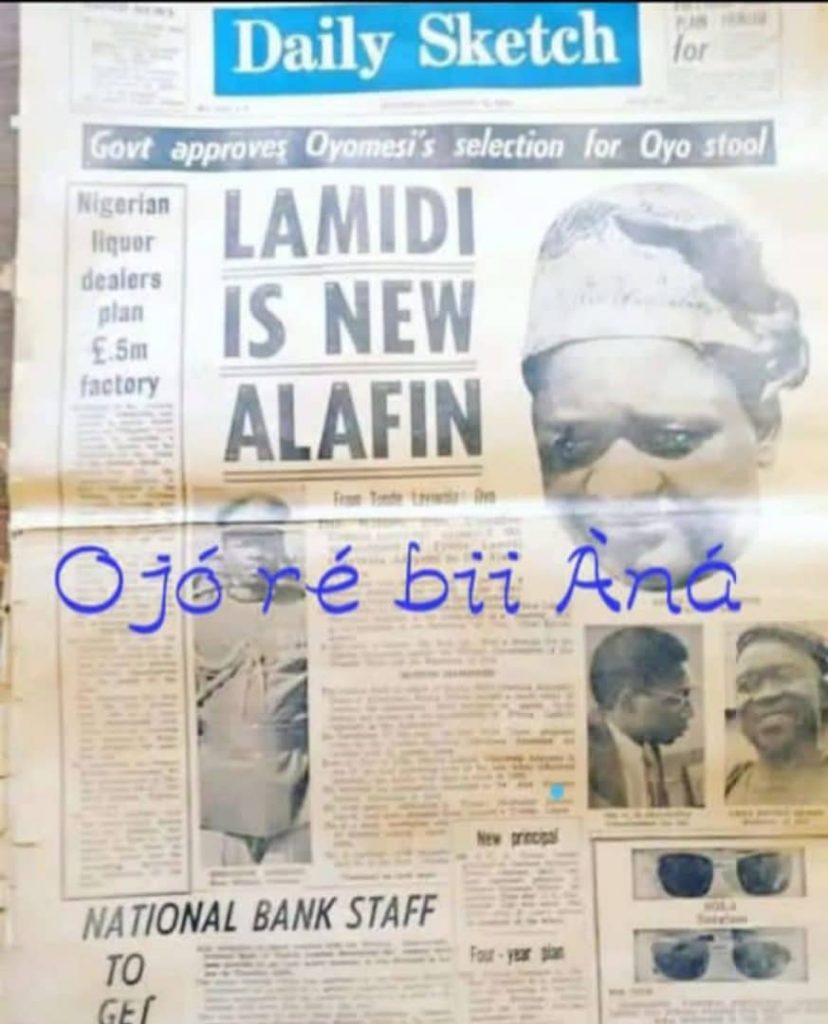 Legacies as Alaafin
The late Alaafin's reign saw him witnessing 21 governors over the Western Region, old Oyo state and the present Oyo state. Out of the 21, seven were civilian governors, while the other 14 were military governors.
Below are the governors while Oba Lamidi Adeyemi III reigned as Alaafin:
Col. Adeyinka Adebayo (1971)
Col. Christopher Rotimi (1971-75)
Navy Captain Akintunde Aduwo, (July – August 1975)
Col. David Jemibewon (1975-78)
Col. Paul Tarfa (1978-79)
Chief Bola Ige (1979-83)
Dr. Omololu Olunloyo (October- December 1983)
Lt. Col. Oladayo Popoola (1984-85)
Col. Adetunji Idowu Olurin (1985-88)
Col. Sasaeniyan Oresanya (1988-90)
Col. Abdulkareem Adisa (1990-92)
Chief Kolapo Ishola (1992-93)
Navy Capitan Adetoye Sode (1993-94)
Col. Ike Nwosu (1994-96)
Col. Ahmed Usman (1996-98);
CP Amen Oyakhire (1998-99)
Alhaji Lam Adeshina (1999-2003)
Sen. Rasheed Ladoja (2003-2007)
Otunba Adebayo Alao-Akala (2007 -2011)
Sen. Abiola Ajimobi (2011 – 2019)
Engr. Seyi Makinde (2019 – date)
Controversies and supremacy fights with other kings
The late Oba Adeyemi and the late Ooni of Ife Oba Okunade Sijuade were always in supremacy battle with both laying claim as the most senior Oba in Yorubaland. The creation of Osun State in 1991 separated Sijuade and Adeyemi but this never stopped them from public outbursts against each other until Sijuade's demise in 2015.
Apart from Ooni Sijuade, the late Alaafin also had a running battle with the Olubadan of Ibadan, Oba Samuel Odulana and the Soun of Ogbomoso, Oba Jimoh Oyewumi over the headship of the Oyo State Council of Obas. While the other two obas called for a rotation of the office, Alaafin wanted to continue being the permanent chairman.
Late Governor Adebayo Alao-Akala however granted the wishes of the two other Obas in 2011 as a way of spiting the Alaafin for not supporting his reelection.
Marriage to many wives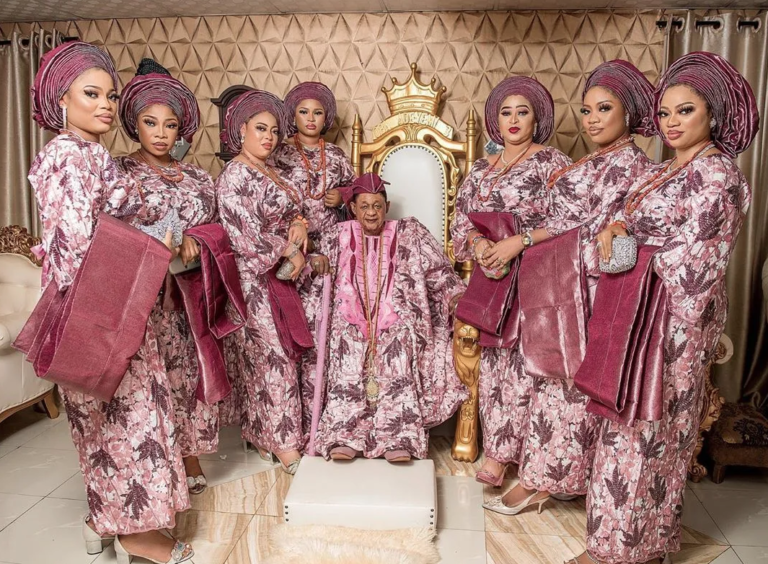 The late Alaafin was said to be married to as many as 12 wives. He went to many public events and travelled with his harem.
The late monarch said he never proposed to any of his wives, but they all came willingly to him on their own accord.
"I have never approached a lady; they come to me. My first wife was a friend to my younger sister of blessed memory.
"My sister introduced her to me and though she wasn't educated, she gave me the first lawyer in our family, my son, Tunde. I truthfully do not know the art of chasing women. I don't go out to chase women," he said in an interview.
In another interview, he said, "I did not propose to any of my wives. They desired to be with me because I sent them to school. After their university education, I told them to leave but they refused and insisted on staying with me here in the palace as my wives.
"The least educated of them has a Higher National Diploma and is now in the university. I don't begrudge or offend women. Marriage is an institution that must be defended. Each partner has their role to play in the marriage. My wives have their individual quarters. God has given me some type of ability and grace to keep a woman, especially beautiful women.
"I don't disclose my conversations or activities with one wife to another. I maintain a strict code of confidentiality. I have learnt that I must positively make an impact on people and make a great first impression. Of course, they (wives) sometimes have disagreements and conflicts of opinion but I have been 'graced' by God to know how to ensure that the conflicts don't escalate."