Two SA airports ranked in global top 20, and FlySafair is second-most punctual airline worldwide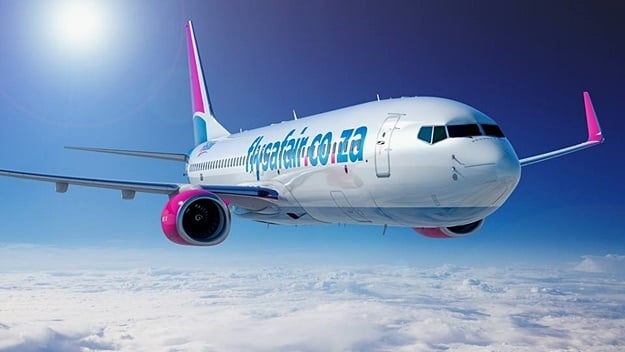 Low-cost South African airline FlySafair is the second most on-time airline in the world, according to an annual ranking by global travel data provider OAG, based in the UK.
Its Punctuality League 2023 report, released this week, analysed flight data during 2022 to determine the most on-time airlines and airports in the world. FlySafair's on-time performance of 95.3% got it the second place on the top-20 most on-time airlines in the world list. This is despite operating 47% more flights in 2022 than in 2019. The airline also had a 0.02% cancellation rate.
It was only beaten by an Indonesian airline, which managed to obtain a 95.63% on-time performance. Garuda Indonesia only operated 25% of the flights they had in 2019.
No other local airline is on the top-20 list.
FlySafair spokesperson Kirby Gordon credits two factors for the airline's sterling performance.
"First is the fact that we manage all our own maintenance, which means we have full control over keeping our fleet in tiptop shape, thereby minimising delays due to technical issues," he said.
"The second factor is a great team with a great culture – a group of people who want to be the best in the world and who know that if they apply themselves, they can be."
Furthermore, two South African airports made the top-20 on-time list for airports.
Durban's King Shaka International Airport took the fifth spot with an on-time performance of 89.73% and a 1.37% cancellation rate. The top four positions were taken by Japanese airlines.
Cape Town International Airport obtained the 16th spot with an 87.26% on-time performance and a 1.02% cancellation rate.
Western Cape Minister of Finance and Economic Opportunities Mireille Wenger said earlier this week that preliminary statistics received from Airports Company South Africa (ACSA) shows that Cape Town International Airport recorded "a spectacular recovery" in passenger numbers during the peak season month of December when compared to pre-pandemic numbers.
The airport recorded 266 656 international 2-way passenger numbers for December 2022, resulting in a 95% recovery when compared to December 2019. The domestic terminal, for the same month, recorded a strong 72% recovery when compared to the 2019 figure with 790 514 two-way passengers recorded.
"A remarkable achievement from our two ACSA airports, undoubtedly setting us to reach even greater heights in 2023. On-time performance is the key airport performance indicator, and this demonstrates how we strive to deliver on seamless end-to-end value chain," says ACSA CEO Mpumi Mpofu.
Lee-Anne Bac, a tourism specialist at BDO, says Flysafair's "stellar performance" should be celebrated.
"This is a very proud moment for South Africa. On-time performance is important, because, from a passenger's perspective, having confidence that the airline is going to get you to your destination on time is important, especially for onward journeys," says Bac.
"Better on-time performance means improved travellers loyalty and bookings. It also means lower costs for the airline as delays have significant ramifications for scheduling of resources – for the airline and airport."
While Bac also lauds the performance on the global top-20 on-time airports list of King Shaka and Cape Town International, she says it is disappointing that OR Tambo International in Johannesburg did not make the global list, nor the top 20 on-time airports in the Middle East and Africa sub-list.
She says the challenge for SA's star performers will now be to keep or improve on their ratings in 2023.
UPDATE: The OAG rankings do not include any other South African carriers besides FlySafair. This is because the OAG only looks at the 250 largest airlines worldwide measured by RPKs (Revenue Passenger Kilometres). This calculates the number of kilometres travelled by paying customers by multiplying the number of paying passengers by the distance travelled.
On the other hand, Airlink, the independent regional airline, has retained its top-ranking position as the most punctual South African carrier operating from all the Airports Company South Africa (ACSA)-operated airports.
According to ACSA's latest statistics, Airlink achieved a 95.52% average on-time performance for 2022 measured across all the ACSA airports.
To be classified as "on-time", departures and arrivals must occur within 15 minutes of their published schedule.
Source: www.news24.com