Two teachers in court for allegedly assaulting nursery school pupil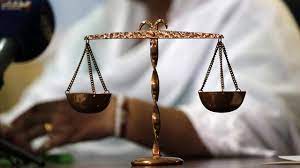 By Kolawole Olayinka, Abeokuta
Two teachers of Deuteronomy Academy, Ilaro-Yewa, Ogun State, have been charged to court on a two-count charge of assault and conspiracy to harm and to cause injury to Master Mohammed Kabir Yakubu, an eleven years old pupil of the School.
They were charged before Chief Magistrate D.O. Ogunbowale Kolawole of Magistrate Court One, sitting in Ilaro-Yewa.
The unavailability of the boy's counsel, Mr. D.O. Folalu due to ill-health stalled the hearing of the matter on Friday, which prompted the Chief Magistrate to adjourned till May 11, 2023.

It would be recalled that the two teachers, Joseph Aborishade (33) and John Hammetama (38) were arraigned on two counts charge on April 12, 2023, as contained in the charge number: MLO/34/C/2023.
Count one reads: That you Moses Aborishade and John Hammetema on the 31st of March, 2023 at about 12 00hrs at Deuteronomy Nursery and Primary School, Ilaro Magisterial district did conspire together to wit assault occasion harm and injury to one Mohammed Kabir Yakubu on his left wrist and hereby committed an offence contrary to, and punishable under section 516 of Criminal Code of Ogun State of Nigeria.
Count two reads: That you John Hammetema on the same date and place at about 12.30hrs at the aforementioned Magisterial district did assault one Mohammed Kabir Yakubu who is a pupil in the school and caused injury on his left wrist and thereby committed an offence contrary to and punishable under section 355 of Criminal Code Law of Ogun State of Nigeria 2006.