U-17 African Cup of Nations: Review of Nigeria vs South Africa match, By Ifeoluwa Leo-Olagbaye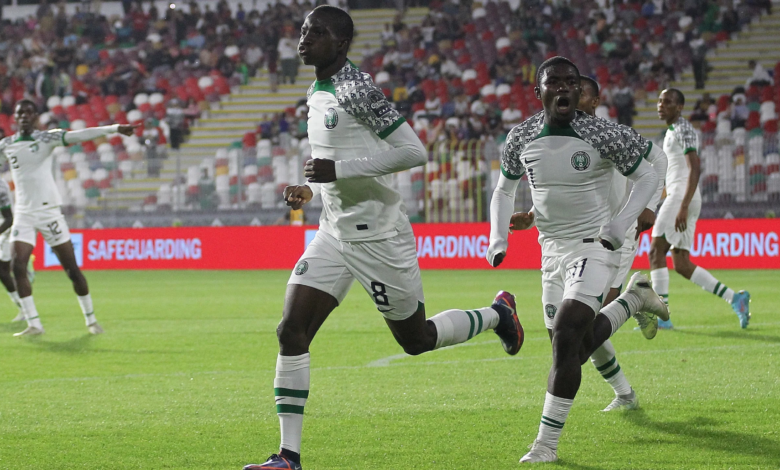 Whoever spoke to the boys after that first half deserves all the accolades. They came out blazing, like the same team we supported at the WAFU ZONE B tournament. They were calm and it reflected in both their style of play and goals scored. The second half clearly was an improvement on the first one. Here are the six takeaways from the match as Nigeria makes it to the quarter final.
1. Emmanuel Michael (freekick specialist) is a Diamond in the rough. He will grow to command that position in the senior team sometimes in the future. He plays like a professional already.
2. Abdullahi (Number 2) needs to fight for a starting shirt. He wasted a lot of our build up chances and refused to go back to his defensive role after losing possession most of the time. I hope we have another replacement who is more disciplined.
3.Massive work needs to be done on our defence. That second goal from the South African (Number 20) made a mockery of our defence. Glad they stopped another potentially dangerous break away in the second half.
4.Light Eke was super hungry for victory and I'm glad he got the back of the net eventually. I love those with a good fighting spirit.
5. Agada (scored our first goal) was a B•E•A•S•T upfront and a pain in the neck of the SA defence. I was sad to see him being substituted.
6. I need the coach to feature my smallie and namesake (Ifeoluwa Olowoporoku) more. Understandably the youngest and not physically built like the others but this young lad has the best football intelligence in that team. I don't see any difference between his build and that of the SA lad who scored the 2nd goal against us.
The coach did an amazing job in the dressing room after our first half apparently and kudos to him.
I want to see a more tactically disciplined team going into quarter finals. Also  we need to convert our begging chances and stop being wasteful.