Ukraine is ready to start process of joining European Union, Commission says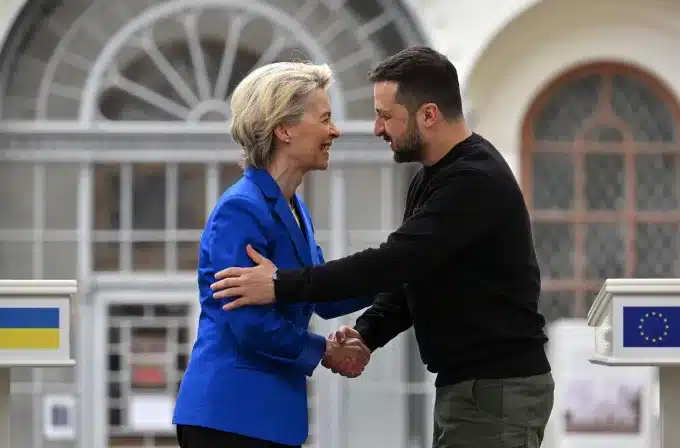 Ukraine's ambitions of joining the European Union received an important boost on Wednesday when the bloc's executive body said detailed negotiations should begin next year.
The European Commission said in a report that so-called accession talks should finally start, nearly 18 months since the bloc accepted Ukraine as a candidate state. The same report recommended that the process should also begin with Moldova, which borders Ukraine.
On Wednesday, European Commission President Ursula von der Leyen said: "Today is a historic day, because today the Commission recommends that the Council opens accession negotiations with Ukraine and with Moldova."
Von der Leyen was speaking on the same day that the Commission published a report suggesting to EU member states that accession talks should finally start, nearly 18 months since the bloc accepted Ukraine as a candidate state. The same report suggests that accession talks with Moldova should also begin.
Ukraine has held ambitions to join the EU for more than a decade. In late 2013, then-President Viktor Yanukovych's decision to scrap a trade deal with the European Union and instead turn toward Russia sparked street protests and his eventual ouster, followed in March 2014 by Russia's illegal annexation of Crimea. The aim of joining the bloc – along with NATO – has formally been part of Ukraine's constitution since 2019.
Ukrainian President Volodymyr Zelensky, who applied for EU membership in February 2022, shortly before Russia invaded his country, welcomed Wednesday's announcement.
"Today, the history of Ukraine and the whole of Europe has taken the right step – the European Commission has recommended starting membership negotiations with Ukraine. Despite all the difficulties, we are moving forward," he said.
"Ukrainians have always been and remain part of our common European family. Our country must be in the European Union. Ukrainians deserve it both for their defense of European values and for the fact that even in times of full-scale war, we keep our word and develop state institutions," he said, adding that "all the necessary decisions are being adopted."
While the decision to open negotiations with Ukraine is an important step on Zelensky's path to EU membership, talks will not begin until a set of conditions have been met. With Ukraine currently at war, it is unclear and unlikely that those conditions will be met any time soon.
And although Ukraine welcomed Brussels' suggestion that talks open and fully expects the 27 EU member states to agree and adopt the position later this year, the recommendation comes with some caveats that will be hard for Kyiv to swallow at this exact moment in time, particularly around the issue of fighting corruption.
The European Commission said in a statement: "The Ukrainian government and Parliament demonstrated resolve in making substantial progress on meeting the 7 steps" required for negotiations to open.
A senior EU diplomat explained that while member states have taken "the political decision to open negotiations, the actual negotiations will only begin once the conditions are fully met" – which at this point could still be years.
More importantly, Ukrainian officials have been concerned lately that attention has shifted from Ukraine to the Middle East since the October 7 Hamas attacks on Israel and the Israeli government's military response in Gaza.
A senior adviser to Zelensky told CNN: "The terrorist attacks in Israel are just another war, just another crisis, diverting public attention in the US and to some extent in Europe. As far as the conflict goes, it's in the interest of Russia for another front to be open. Any other international crisis means resources pulled away from us. Which is good for the new axis of Russia, Iran and North Korea."
Western resolve in support of Ukraine has remained remarkably solid ever since Russia launched its unprovoked full-scale attack in February 2022. From financial and military support to open support for Ukraine joining Western institutions like the EU and NATO, many European officials have privately expressed their surprise at precisely how long Europe has not only remained focused, but also not torn itself apart.
There are members of the Western alliance who are traditionally less hawkish when it comes to Russia than others. This mix of opinions becomes more complicated in any forum where the EU and NATO overlap.
NATO's history may be steeped in the aftermath of World War II and the subsequent Cold War divisions between east and west, but there are members who take a more sympathetic view of modern-day Russia: most notably Turkey and Hungary.
The European Union, for its part, not only has a range of views and diplomatic relations regarding Russia, but has a number of countries who are officially militarily neutral. The balance has shifted with Finland joining NATO this year and Sweden likely to do so very soon, but Ireland and Austria retain their official position of neutrality even in 2023.
Despite all of this, Ukraine has had what the European diplomat described as "our undivided attention" for the best part of two years.
Some in Brussels are surprised – even a little angry – to learn that officials in Kyiv are concerned about so-called Ukraine fatigue. "I simply do not think that focus is shifting – to the contrary," a commission official told CNN. "We have proposed 50 billion (euro) support for Ukraine in the coming years."
Some European officials, also based in Brussels, are conversely surprised that some in the upper echelons of the European institutions are so dismissive of Ukraine's concerns. "It's true to a degree that focus has shifted. Just look at the media. It is focused only on Israel," says a NATO diplomat.
Some eastern European states in particular share the Ukrainian view that a shift in focus toward the Middle East plays into Russia's hands.
Lithuania's foreign minister, who is planning to visit Washington to remind the United States of how important this moment is, said on X, formerly known as Twitter: "We are dangerously close to missing the opportunity to end centuries of the Kremlin's imperial aggression and secure the future of multiple continents. Our children will curse us in the trenches we are digging for them."
The EU's signal that it is politically ready for accession talks to formally begin is a significant milestone for Ukraine to have reached. It is, however, just one of many on its long path to EU membership. That process could take up to a decade and no one can say with any certainty where Ukraine or the rest of Europe will be politically by that point.
Source: CNN