UNGA: Tinubu has presented Nigeria as number 1 investment destination, says information minister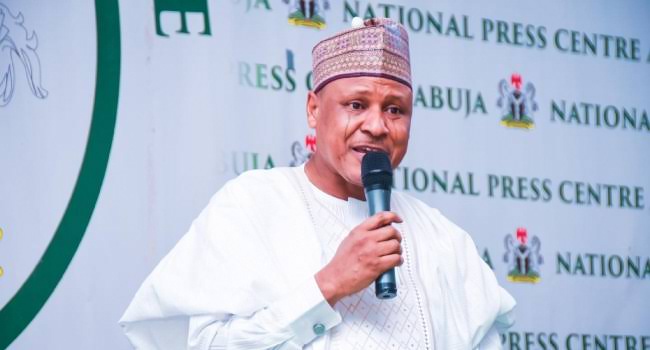 Minister of Information Mohammed Idris spoke to the Nigeria Television Authority on the President's achievements at the ongoing United Nations General Assembly.
Read the excerpts below:
Well, it's been a fantastic outing for for the president of Nigeria, as you know, and as you have said this is the first major outing he has had since been in this leadership position he has taken. He was there not just for Nigeria, but for Africa as a whole.
He has shown strong commitment for Nigeria to lead the African nation. He has also shown the commitment of Nigeria at the present administration to expand the horizon.
Open up the Nigerian economy so that people can come in like you have said come in with your money. Take it out where you need, but come to Nigeria, Nigeria is open for business and that's the central message that Mr. President has been reading.
Well, as you know, that before even coming to New York, Mr. President has been to India, he also had a stopover in the United Arab Emirates.
He came here with a strong message first from Nigeria, to tell the world that Nigeria is open for business in that direction. As you said he met with the UN Secretary General and the Deputy Secretary General of the United Nations our own Amina Muhammad. He also had strong discussions with world leaders.
He had a commitment especially from ExxonMobil, and the President of the ExxonMobil upstream, has pledged 40,000 additional barrels of oil per day as new push for Nigeria's further investment in the country. He has also had engagements with African leaders, other world leaders, he met with the business community he met with people in the ICT tech. community and oil industry and so many other ones.
We're already beginning to see investors promising to come to Nigeria to invest massive amounts of money for the progress of our country and for development of the world.
His message all the time is that first Nigeria shouldn't be pitied, Africa shouldn't be pitied. There should be a level playing ground there should be some kind of mutually respectful relationship between Nigeria and the rest of the world.
Time had passed when Nigeria and Africa have been looked at as a continent that people can be pitied.
We have said open up the field. Let's compete we have the right skills for Nigerians and for other people from the rest of Africa to play their own part in the development of the world. And the message is that look we open it up we are there for you don't pity us, make the level playing field and Nigeria is ready to participate.
World leaders are ready to rally around Nigeria to ensure that Nigeria also take its rightful place, it appears that the world is welcoming Nigeria back to its fold.
So much is happening and Nigeria is being expected to lead the way, President Bola Ahmed Tinubu is doing just that.
Nigeria is becoming a very important nation once again, is taking its rightful place, and is not just for Nigeria, but for the rest of Africa, open up the space we are there we participate and compete and Nigeria and Africa will be the best for it.