Unite the nation, Afenifere leader Fasoranti charges Tinubu in congratulatory message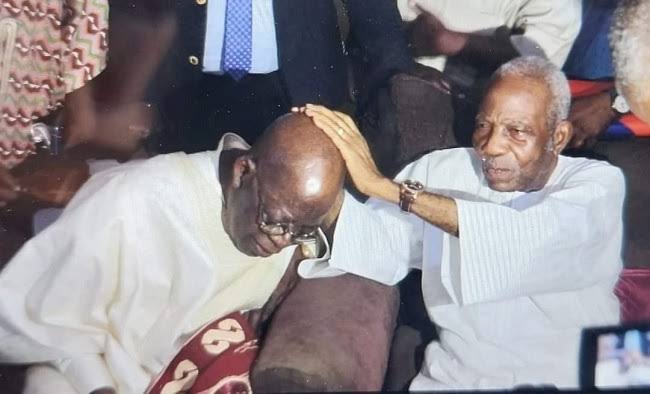 Afenifere leader, Pa Reuben Fasoranti has urged President-elect, Bola Tinubu to use his government to unite the nation.
Fasoranti said this in a letter to Tinubu, congratulating him for emerging victorious at the February 25 presidential election.
He expressed confidence in the ability of the former Lagos State governor to turn the fortunes of the country for good the same way he did in Lagos.
He said: "In the Omo!uabi concept of respect to the elderly or father in the house, you ended your consultations for the presidential race with a visit to me in Akure. I prayed for you, and asked you to go for your party mandate because you are not just a Yoruba man but a detribalised Nigerian. And when you snatched the mandate from all other candidates, you came back to me on October 30, 2022 and in the presence of many distinguished Yoruba leaders, I gave you my blessings. We are indeed grateful to the Almighty God that eventually saw you through. Congratulations.
"I did marvel at you doggedness, self-determination, self-assuredness, strong belief in self, ability to overcome daunting and ever surging cha!!enges.
"I was, also, amazed at God's grace on you, that gave you the strength of character and such abundance of energy, that enabled you to navigate through all the ever eemerging intricate problems, and made it possible for you against the wishes of some people, traverse successfully all the states of the federation, during the energy sapping marathon presidential campaigns
"I am, indeed, glad to know that your hard earned victory had a very good national spread. Amongst about 18 presidential candidates, you came 2nd in South South, 2nd in South East; 1st in South West; 1st in North Central; 2nd in North East; and 1st in North West. What a brilliant performance!
"I now appeal to all concerned Nigeriahs and the international community who might be aggrieved, one way or the other, not to do anything that will set Nigeria on fire. We should all go peaceful, take lawful means and thread legitimate and legal paths to rectify anything that might have, from their own point of view, gone wrong, and let Tinubu and all concerned settle down immediately to tackle the enormous Nigerian project of tackling insecurity, solving our economic downturn, restructuring the country, and rebuilding a nation never so badly divided on ethnic, religious and corrupt lines.
"In my interviews on 'Sunday Vanguard' July 19, 2020, and about two years later in 'Saturday Sun' July 30, 2022, I did say about your presidential ambition that you 'meant' well, and that when you were 'the Governor of Lagos State, you did very well' and could 'carry' this passion and successful performance 'into the Presidency'.
"You now have the opportunity, now is time for you to prove me right. I pray God be with you (amen).
"In going about this, avoid the mistake of some of your forbears. Be fair to all concerned. Go ahead to unite the country, see and treat the country as one. Be a federalist. Allow the big ethnic groups to exist and respect one another, but also allow the small ones to feel proud and wanted in the spirit of federalism as practised in U.S.A.
"In conclusion, I am aware of the enormity of State Governance. Let me therefore, assure you that we will be available for consultation and any other assistance when the need arise.
"Congratulations, my dear son; Congratulations Nigeria."