UPDATED: German Chancellor, Olaf Scholz visits Tinubu, to strengthen bilateral relations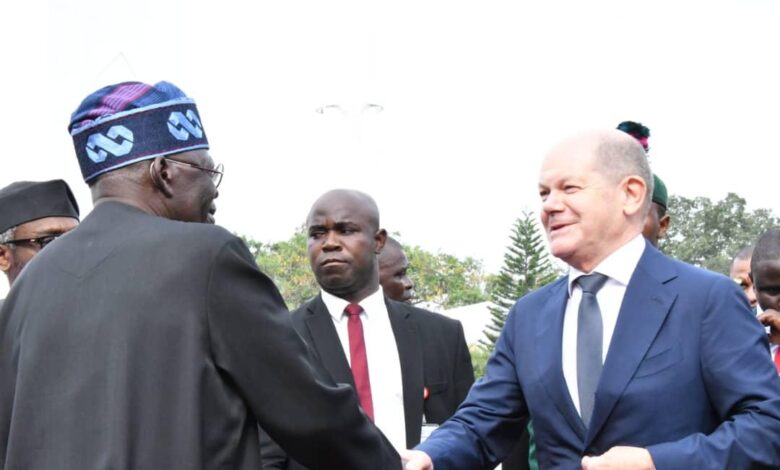 Germany's chancellor, Olaf Scholz, on Sunday visited President Bola Tinubu at the state house in Abuja.
President Tinubu received Scholz at 3:39 pm, after exchanging pleasantries, the two leaders went into a closed-door meeting.
Scholz is visiting Nigeria on October 29 and 30 2023 to strengthen bilateral relations between Germany and the Federal Republic of Nigeria.
Speaking about the potential benefits that Germany and Nigeria hope to achieve, Scholz stated that supporting the development of Nigeria's economy and mineral resource sectors while avoiding environmental damage is a key component of collaboration with Nigeria.
He underlined that there is a lot of opportunity for improvement and for better utilising the capacities in Nigeria. He stated that Germany would be pursuing additional economic options in addition to the conventional gas and oil collaboration.
This, he identified that Germany would be looking into investments for the future with Nigeria in hydrogen.
Scholz also voiced concerns about the fact that the mining industry in Nigeria has historically prioritised extraction, stressing the need for the two nations to adopt a strategy that will help Nigeria's economy grow in the mineral resource sector.
"I think that the investments into this structure must be easy, but also benefiting for your country. It is something that bothered me a lot in the past that sometimes it was just about extraction, which is not enough, there should be one bit more for making it feasible that some parts of the economic development can be used in the countries of origin," he said.
The German chancellor also stated that infrastructure development in Nigeria should not be centered into development of railways and roads but investment in electricity.
The Federal Government and the German engineering company signed a power project agreement in July 2019 that calls for the delivery of 7,000 megawatts (MW) of electricity to the national grid by 2021 and 11,000 megawatts by 2023, or phases one and two of the programme, respectively.
"This is not the case today in our world, but if we change this a little bit, it will change a lot and working on this field is also important for us. We see that a lot of investments have to be taken looking at infrastructure and it's not just about roads and railways.
"It is also about electricity, the infrastructure using the grid making feasible that all the produced energy or the power that is already there could go to the people because they are making it and finding a way how we can develop the economy in this field will be also important," he added.
Speaking about Nigeria's development initiatives, Tinubu declared that his administration is committed to establishing a revolutionary government.
Tinubu also spoke about his efforts towards fighting terrorism, in which he stated Nigeria seeks the support of Germany towards curtailing insecurity
He said, "Nigeria is still crawling, but we are determined to change the narrative and bring about a transformative government in the country.
"You are very welcome with your delegation to partner with in terms of education, power, mineral resources and all the other opportunities. We have gun a long way to bring about security of our people.
"We're fighting terrorism and that is improving. We still need very much support in that area. And for us to be able to sustain democracy, rule of law and freedom for our people, we need to fight for democracy. And democracy must win at all times for us to meet the expectation of an African dream. That is why your visit this time around is more than necessary and welcome. I hope you will enjoy yourself."