Uzodimma inspects projects at Okigwe, bags chieftaincy tittle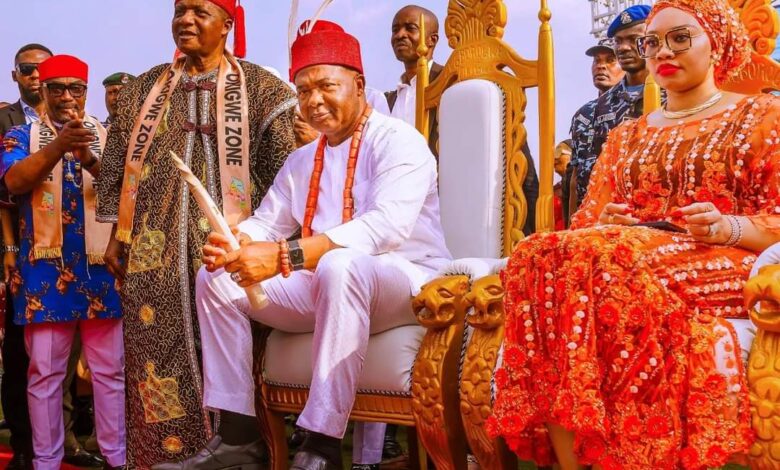 Imo State Governor, Hope Uzodinma in continuation of his statewide tour on Saturday inspected projects at Okigwe, one of the important towns in the state where he and his wife were also honoured with chieftaincy titles.
The governor decried the neglect Okigwe had suffered under previous administrations in the state despite its social and economic importance stressing that his administration is determined to change the fortunes of the town to the better with many infrastructural projects and Agro-Industrial Processing Zone being funded by the African Development Bank.
The governor said: "As one of the major metropolitan cities of our dear state, Okigwe is at advantage to progressively develop beyond the state it was when I resumed office as the Executive Governor of Imo State.
"It is quite appalling that we met Okigwe zone in a poor state due to negligence by the previous administrations. It is also quite understandable, the resultant effects of the negligence which we now have to battle with.
"Since inception, my Shared Prosperity administration has embarked on various projects geared towards recovering the city of Okigwe and the zone. The Okigwe roundabout – St Mary's Church road and the Okigwe Stadium road are just a few out of other projects we have embarked upon in Okigwe.
"Apart from the Owerri-Okigwe road, which is fast nearing completion, we have also secured approval for Senator Benjamin Uwajumogu College of Education Ihitte Uboma, some ecological control projects and the Owerri-Umuahia road which cut across Obowo Local Government Area.
"These and many others, including the Special Agro-Industrial Processing Zone (SAPZ) project in partnership with the African Development Bank (AfDB), are what Okigwe stand to gain in the Shared Prosperity administration.
"However, there is no actualisation of these without a peaceful society therefore, I called on our people of Okigwe senatorial zone, to support the government, for which their sons and daughters are prominent cabinet members, to enable development progress in the zone.
"My wife and I, are very elated at the decoration, by the Okigwe people, with the Chieftaincy title of 'Chukwumereze ndi Okigwe'. With your continued support, we shall reciprocate this with quality governance across the zone and the entire state."