Voting opens as Nigerians elect Buhari's successor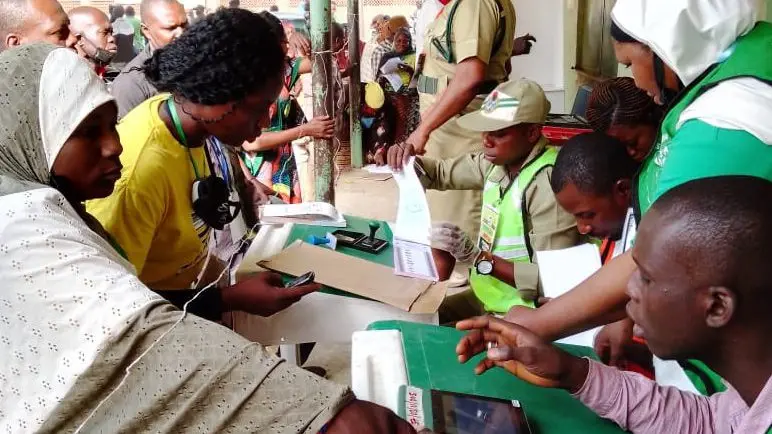 Voting has started across the country as Nigerians trooped out to elect the successor to President Muhammadu Buhari and members of the National Assembly.
This is even as the Independent National Electoral Commission (INEC) warned voters not to bring mobile phones or any photographic device inside the voting cubicle to take pictures of the party they cast their votes for.
Today's election will see 87.2million voters queuing up at the 176,846 polling units spread across the country.
Voting started by 8.30am and is expected to close by 2.30pm.
The front runners are Asiwaju Bola Ahmed Tinubu, the candidate of the ruling All Progressives Congress (APC) and Atiku Abubakar of the opposition Peoples Democratic Party (PDP).
However, a third candidate has emerged in the person of the Labour Party's candidate, Peter Obi, who has succeeded in galvanizing young voters, especially in the southern part of the country.
While Tinubu and Obi are contesting for the Presidency for the first time, Atiku Abubakar is having a go for the sixth time.
Nearly 10 million new voters registered this year, most of them under 34, representing an important bloc if they come out to vote.
There were cash and fuel shortages in the run up to the election, a development that was seen in some political circle as an attempt by alleged cabal surrounding President Buhari to damage the ruling party and in the process impact negatively on its candidate.
To win the presidency, a candidate must get the most votes, but also win 25 percent in two-thirds of the 36 states.
If no candidate wins, a runoff will take place between the two frontrunners.
Meanwhile, INEC National Commissioner and Chairman of Voter Education and Publicity Committee, Festus Okoye, said no one will be allowed to go into the voter cubicle with electronic gadgets.
He said anyone caught will be jailed upon prosecution.
"No one will be allowed to take his or her phone to the voting cubicle. It is prohibited.
"Officials of the ICPC, EFCC and security agencies will be on hand to monitor and ensure that the law in that respect is not violated," he said.