We will not let you down, Sanwo-Olu assures Lagosians at inauguration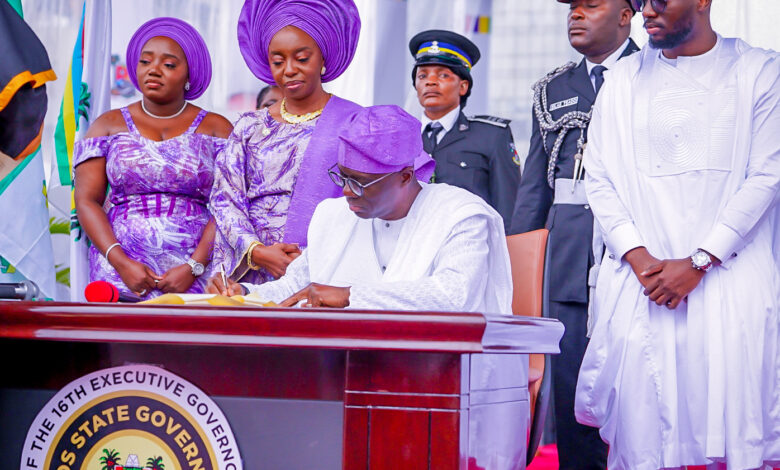 Governor Babajide Sanwo-Olu on Monday assured residents of Lagos that he and his Deputy, Obafemi Hamzat will not let the state down.
Sanwo-Olu, who gave the assurance during his inauguration at the Tafawa Balewa Square, Lagos, also pledged that his administration will continue to foster a culture of transparency, accountability and participatory governance.
The governor pledged to lose himself in the service of Lagos State, to work tirelessly for the well-being of every Lagosian, and to strive for a Lagos that we can all be proud of.
Sanwo-Olu, who was administered the oath of office alongside his deputy, by the Chief Judge of the state, Justice Kazeem Alogba, acknowledged that the state is committed to social contract with the responsibility to govern honestly, transparently, humbly and with dedication.
The duo were accompanied to the event by their spouses, Dr. Ibijoke Sanwo-Olu and Oluremi Hamzat, alongside their children.
Restating his administration's commitment to moving the state to the next level in the second term, the governor noted: "It is with this resolve that I am pleased to announce that we are taking our THEMES governing agenda to the next level, in this our second term."
Sanwo-Olu promised that his administration will design all our policies and programmes to ensure that everyone is carried along and catered to, adding that no one will be left behind on account of their social status, gender or young age, in the policies.
Sanwo-Olu said: "We will work relentlessly to make Lagos a state where economic opportunities abound, where our infrastructure is robust and resilient, and where the rule of law prevails.
"But our vision for Lagos goes beyond our physical infrastructure and economic indicators. Our vision is for a Lagos that is a beacon of cultural vibrancy, intellectual prowess, and humanistic values. A Lagos that not only drives the economic engine of Nigeria but also enriches the soul of our nation.
"As we continue to write the story of Lagos, let us embrace this spirit of inclusiveness and harmonious coexistence, for it is this spirit that makes us truly 'Eko'.
"Our government will continue to build a Lagos that is not only a commercial nerve centre but also a hub for innovation, culture, and sustainable development.
"As we venture into this second term, I want to assure you that the spirit of our endeavours remains unfaltering. We will continue to tackle our challenges head-on and celebrate our successes. We will harness the potential of our greatest resource – our people."
The governor assured that the progress made by his administration during his first term will not be reversed.
"We will remain steadfast in our mission to make Lagos State a model of good governance, a beacon of hope and opportunity for all. Our path is clear, and our resolve is unshakeable.
"I must add, that the last four years have not exclusively been about surmounting unforeseen challenges.
"There is so much more to our story, than simply reacting to the circumstances that have lined our path.
"We have also been busy taking action; instead of merely reacting. We have been writing a compelling story of deliberate progress, of action and ambition, fruitful policies, of committed governance, and of a resolute journey towards the unshakeable ideal of a truly Greater Lagos.
"Four years ago, I remember assuring you, the good people of Lagos, that, "It is possible!"
"Indeed, it is possible. It is always possible.
He said: "Since 1999, our tradition of progressive governance has set Lagos apart and strengthened people's belief in our ideology
."That tradition of progressive governance, of enlightened leadership, has consistently yielded fruit for us, and set us up as a model for other states across Nigeria.
"It has delivered the dividends of democracy to you our people and given us the opportunity to export our public sector innovation to the rest of the country," he added.
The event was attended by dignitaries from across the state, who defied the rain, to witness the second term inauguration ceremony of the governor and his deputy.