We'll hand over stronger, better state than we inherited – Ikpeazu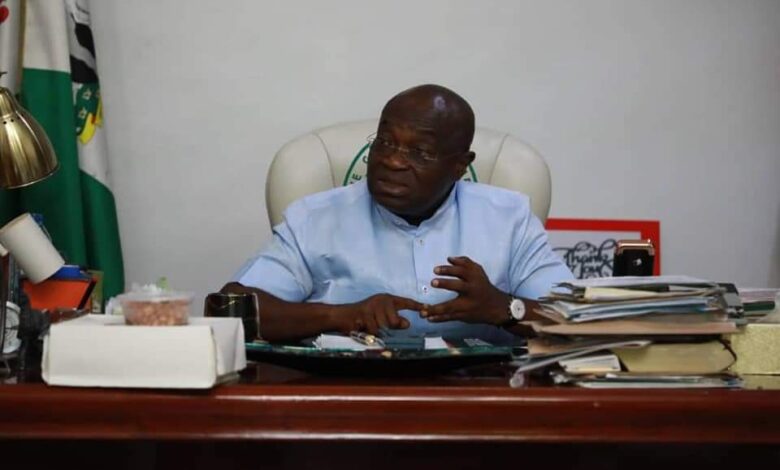 Abia State Governor, Okezie Ikpeazu has assured that his administration will be handing over a state that is stronger and better in every respect to the next administration.
The governor stated this on Tuesday while receiving in audience the South East Inspection Monitoring Team from the National Economic Council.
Governor Ikpeazu stated that every available sociopolitical and socio economic indices make it clear that the requisite foundations have been laid for the next administration to build on.
He said: "From sociopolitical stability to socioeconomic development, peace and security and infrastructural renewal, Abia is way better than it was when we came on board.
"Apart from what is physically verifiable, we will bequeath to our successor a 30 year development plan for the State put in place together with international development partners, a comprehensive Masterplan for Umuahia, Aba and Ohafia put in place with the UN HABITAT as well as an Industrial Policy done together with the United Nations Industrial Development Organization (UNIDO). These will assist the next administration a great deal. These things were not there when we came on board."
The governor thanked the team for coming to the state to see for themselves the extent of the efforts of his administration in the provision of basic and social infrastructure for the people of Abia State.
He used the opportunity to inform the people of the state that he will do everything possible to complete the multi Specialist Hospital inside the premises of the old Aba General Hospital, noting that all the medical equipment for the hospital are already on ground while the massive hospital building is 95% completed.
Speaking earlier, the Team Lead and Deputy Director, Special Duties of the National Economic Council, Mrs Dorothy Uwaoma told the governor that the team was in the state pursuant to the resolution of the National Economic Council to move round the country and get first hand information on the projects and policies put in place across the states and to institute a peer review mechanism where states can learn from each other.
She expressed satisfaction with what they saw during the tour and was particularly delighted with the Mother and Child Hospital at Umuahia as well as the Enyimba Automated Shoe Company Aba.
She added that from their records, Abia is the first state in Nigeria to introduce medical laboratory services in Primary Health Care Centers with the pilot scheme at Nkwoegwu, Umuahia North LGA.