Iragbiji set to host Oyetola to grand homecoming reception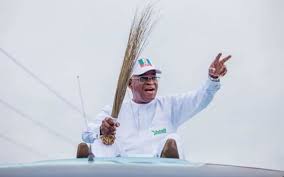 ys new Minister deserves 'home-reception'The Aragbiji of Iragbiji Oba Abdur-Rasheed Ayotunde Olabomi Odundun IV has said all was set to host the immediate past governor of Osun State and pioneering Minister of the novel Marine and Blue Economy Ministry, Gboyega Oyetola in his country-home, Iragbiji.
This was made known to the press on Saturday in Osun through a statement issued by the Secretary and signed by the Chairman of the Media and Publicity Sub-committee for the forthcoming reception, Dr. Jimoh Olorede and Alh. Adeoye Bakare.
According to the statement, Aragbiji had, some weeks ago, set up a Grand Reception Organising Committee chaired by Engr. Taiye Adeyemi for home-celebration of the new Minister.
The Committee Chairman said: "The new Minister deserves a grand reception especially at home by all and sundry irrespective of their political affiliation or class.
"This reception transcends politicking as the terms of reference given to the Committee by His Royal Majesty Aragbiji, include an open invitation to all sons and daughters of Iragbiji as well as friends and associates of Oyetola.
"It's important to say that we're not organising a reception for the ex-governor only because President Bola Tinubu appointed him as Minister; we're hosting and celebrating him also because we believe in him, his capability, and we're proud of him given his achievements in Osun, just as we're certain that he will surely replicate the exploits in the new Ministry.
On the invitation to the event, Engr. Adeyemi in the statement said: "Come and join Aragbiji and all sons and daughters of Iragbiji at Oke-Iragbiji Grammar School Playground on Saturday, September 9th, 2023, to receive the Honourable Minister of Marine and Blue Economy."