We're waiting for Aregbesola's directive before joining APC campaign-Osun group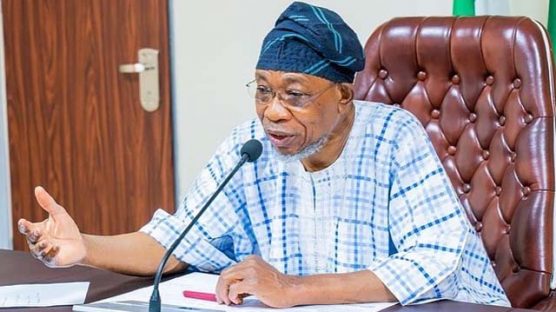 By Deborah Oladejo, Osogbo
A new group within Osun State chapter of All Progressives Congress (APC), Blue Movement, has declared that only the former governor of the state, Rauf Aregbesola, can direct them as his followers to join the campaign train of the party for the coming general elections.
The group, which claimed that it has members across the 30 local governments, including the area council, Modakeke, said they are still waiting for the directive from Aregbesola, whether to join the presidential campaign train in the state or not since they have not received official invitation from the leadership of the party.
Speaking at the weekly stakeholders' meeting of the Movement in Osogbo/ Olorunda local Governments, held at Ola-Oni Centre Osogbo, Coordinator of the group, Hon. Wale Alabi, maintained that they remain the core members of APC in the state.
Alabi, who described members of the group as the core loyalists of Aregbesola, who is the Minister of Interior, said they believe so much in the political ideology of the former governor.
Describing Aregbesola as a core progressive, he expressed optimism that the internal wrangling within the progressive folds would soon become a thing of the past, notwithstanding, efforts by some individuals who have been frustrating the peace move by concerned leaders of the party.
He restated their membership as progressives, declaring that APC is their party and that they do not have any other candidate or another party to support than APC on the instruction of the minister.
Alabi said the group is not willing to support any other presidential candidate than whoever Aregbesola is supporting in the general election.
"The Blue Movement is a political group within the APC. That's where we are.
"By the special grace of God, we are not willing to leave the progressives. So as far as the presidential race is concern, we have a boss.
"Though we have some individuals who do not want peace within APC, I want to believe that all our crisis would be resolved God's willing. If the crisis is resolved tomorrow, we are ready to work for the party base on the directive of our boss, Ogbeni Rauf Aregbesola.
"We are not willing to do anything other than whatever Aregbesola is doing and as you can see, he has not even given his support to any other candidate because he was not called and he was not involved in the scheme of things.
"That does not mean that he is willing to support other candidates. APC is Aregbesola's party and Aregbesola is APC in Osun, as far as we are concerned.
"APC leadership in Osun have sidelined us and this is the reason why we have not taken part in the campaigns.
"So under that arrangement, it is so difficult for us to just start because we don't know what they are doing. We are waiting for Aregbesola's directive. We are waiting for him to instruct us to join the presidential campaign," he said.