Who will console a bitter and confused Bisi Olawunmi? By Ayodele Ola Daniels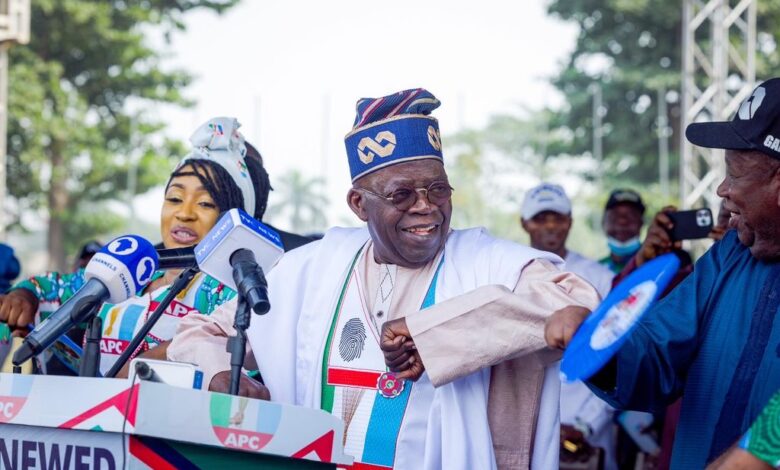 Although he signs off his recent garbled piece titled 'Igbos and The Battle for Lagos' as a Mass Communications scholar and public affairs analyst, Dr Bisi Olawunmi's offering in that article exhibits neither the nuanced sobriety and wise caution of the seasoned scholar nor the rigour and meticulousness of the dispassionate analyst. It is even more tragic that a university teacher in the specialization of Mass Communication could write and publish in the media an article so pedestrian in articulation, superficial in logic and bereft of facts that his reader cannot but wonder what quality of education he is imparting to the students so unfortunate to be under his watch.
What comes across most clearly in the article is Olawunmi's acute bitterness and inconsolable pain at Asiwaju Bola Ahmed Tinubu's emphatic victory first at the presidential primaries of his party, the All Progressives Congress (APC) and no less impressively in the presidential election of February 25. He has never hidden in his writings his dislike for and antagonistic disposition towards Tinubu; factors which impair his reasoning faculty and objectivity on any matter concerning Asiwaju. Commenting on the outcome of the APC primaries, for instance, Olawunmi like an agbero, bolekaja academic, resorts to empty and meaningless sloganeering when he writes that "Godfather Tinubu deployed a combination of Agbero Politics on Intimidation (API) and Redemption of Political I.O.U (RPI) to successfully face down APC national chairman and President Muhammadu Buhari to snatch the APC presidential ticket ".
Pray, what is the meaning of this laughable mumbo jumbo if not a cavalier indulgence in sheer Alawada sophistry? The APC presidential primaries took place in the public space and was covered live on national and global television. ASIWAJU won a fair and square landslide victory following the deployment of his trademark deft political strategies as well as an intensive nationwide campaign to woo and win over the vast majority of party delegates. Of course, there is absolutely nothing wrong with requesting that political I.O.U's be paid and Asiwaju has reaped bountifully from his investment in building bridges, forging friendships, building alliances and making strategic political concessions to reap enduring future gain over the years. This is routine practice in politics across time and space which a political illiterate of the Olawunmi hue cannot comprehend.
Listen to Olawunmi's pitiable and pathetic moaning again, "That those he touted as getting into public offices through him contested the APC primaries with him, had signaled incipient unraveling of his structures. Many of such people are now on siddon look mode". But for the fact that Olawunmi only pretends to be a democrat and lacks a genuine appreciation of the meaning of democracy, what exactly is wrong with anyone contesting the presidential primaries with Asiwaju? Is that not taken for granted as the fundamental human rights of such individuals? But what was the outcome and who emerged victorious? That Tinubu successfully and deftly meandered through land mines laid by the opposition and even from elements within his own party to emerge as President-elect demonstrates that Olawunmi's talk of "incipient unraveling of his structures' lies in the realm of political fiction.
It is obvious that Olawunmi is envious of the phenomenal political success Tinubu's political tendency has enjoyed and achieved in Lagos over the last two and a half decades. It is surely no mean feat that the progressive tendency as symbolized in this dispensation by Tinubu and the parties he has helped to form has retained power in Lagos, Nigeria's most cosmopolitan, urban, diverse and complex state since 1999. This is a function of the mature, statesmanly, sensitive, intelligent and balanced leadership that Tinubu has provided for his political tendency and party in the state.
In accordance with the constitutional stipulation, every government that has exercised power in Lagos State since 1999 has come into office through duly conducted elections in 2003, 2007, 2011, 2015 and 2019. These elections were conducted by the Independent National Electoral Commission (INEC), which is under the control of the federal government. It is noteworthy that until 2015, Tinubu's ACN and now APC was in opposition with the PDP controlling the federal government between 1999 and 2015. Nobody can therefore credibly accuse Tinubu and his political party of exploiting their control of the electoral process to rig elections in Lagos. They have been in power through the expressed will of the electorate as expressed in free, fair and credible polls. Luckily, but for the election of Mr Babatunde Fashola in 2007 in which he led with nearly half a million votes, all governorship elections in Lagos State since 2003 have always been closely fought and highly competitive which speaks to the integrity of the process. All talk of one individual's vice grip on the politics of the state is a function of the sterility of Olawunmi's imagination and does not reflect the dynamics of political forces on the ground.
Olawunmi's partisanship, personal animosity towards Tinubu and lack of intellectual honesty and integrity do not allow him to admit that the most crucial factor in the electoral success of Tinubu and his political parties in Lagos since 1999 has been the unsurpassed developmental performance of successive administrations in the state in this dispensation. The economy of the state has been grown to become the fifth largest in Africa. It's infrastructural modernization and expansion has been systematic, continuous and consistent. In transportation, traffic control, urban planning, waste management and revenue generation among others, it has evolved institutions, structures, methods and processes that have been studied and emulated by many other states. As a supposed academic, one would have expected that Olawunmi would be concerned with the demonstrated comparative managerial experience, administrative competence, emotional intelligence and other leadership attributes of anyone who aspires to be governor of the fifth largest economy in Africa. No, he is too constricted by his pettiness and bitterness against Tinubu and does not care if the state is handed over to ill-prepared and untested hands.
Amazingly, Olawunmi accuses the APC of whipping up ethnic sentiments particularly anti-Igbo emotions in the run up to the governorship elections of March 18. He pretends not to know that the ethnic and religious factors were exploited to the maximum particularly by Mr Peter Obi of the Labour Party (LP) in the February 25 election. While he scored over 95% of the votes cast in the SouthEast states, Obi also had block votes in parts of Lagos state with large Igbo populations while the Yorubas were more diversified and liberal in their voting patterns with many also apathetic due to the cash crunch, the fuel scarcity and the complacency of the ruling party. Obi also waged a divisive campaign rallying Christians against the APC's strategic and pragmatic Muslim-Muslim ticket which predictably eventually won the election.
All this will change on March 18. There is now greater ethnic awareness all round. People are now more sensitive to careless and arrogant statements by those who claim that "Lagos is no man's land" while maintaining a hegemonic grip on their own ethno-regional zones. This is particularly so when the LP in Lagos State decided to field a Gbadebo Chinedu Patrick Rhodes Vivour who reportedly can hardly speak the Yoruba language in the most important and strategic South West state. It would not matter that Chinedu Gbadebo's mother and wife are also Igbo were it not for the fact that he has not denied or sought to seriously debunk evidence online that he is a fanatical partisan of the Indigenous Peoples of Biafra (IPOB).
In any case, does Olawunmi not exhibit his confused state of mind when he writes that "The irony for Tinubu is that he is the political leader who has most empowered Igbos in terms of public appointments and employment into the civil service as well as allowing them free reign in setting up shops in every available space in an unregulated Lagos". If true, does the canon of morality recommend brazen ingratitude for a good turn on the altar of ethnic clannishness? Even before Tinubu's tenure, Igbos had been allocated ample space to trade and conduct their business in various designated markets across the state. If they now also want to foist an Igbo governor on Lagos when they will not tolerate a non-Igbo governor in any SouthEastern state, it will be daft to expect the Yorubas to lie complacently and be relegated to a second class status by another ethnic group in their own state. A video has gone viral online of a meeting in a community in Abia State where people were being sensitized on the need to win the state for the LP but more importantly "to win Lagos for the LP even at the cost of our lives".
Olawunmi argues that the #EndSars activists were a key factor in the LP's victory in Lagos in the presidential election. But the #EndSars protests was a nationwide activity. Its stated target was to stop police brutality and the Nigeria Police Force is an agency of the federal government, not the Lagos State government. Videos that have gone viral have shown leader of IPOB, Nnamdi Kanu, inciting the hitherto peaceful protesters to destroy government and private property all in the Yoruba dominated parts of the state. Lagos lost an estimated N2 trillion in the gale of destruction that followed. It is now obvious that the destructive #EndSars protests in Lagos were clandestinely hijacked to pursue a conspiratorial ethnic agenda. Blinded by bitterness against Tinubu, the Olawunmis see nothing wrong in the destruction of Lagos engineered by an Igbo terrorist !
The pattern of voting in the last election confirmed that there is indeed an ethnic conspiracy and gang up to effect an Igbo power grab in Lagos. It cannot succeed no matter the malicious, malevolent and mischievous analyses of the Olawunmis of this world. After all, Olawunmi's kinsman, mentor and sponsor, Chief Ayo Adebanjo, endorsed Peter Obi in the presidential election. Obi lost even in Pa Adebanjo's polling unit. Yet, Olawunmi decries what he describes as "the underlying false assumption of the APC as custodian of Yoruba political hegemony". But that is the undeniable current reality as demonstrated by the outcome of presidential elections in the SouthWest in 2011, 2015 and 2019. On each occasion the Yoruba refused to heed the political trumpet call of Pa Ayo Adebanjo's faction of Afenifere. They consistently voted against Pa Adebanjo's choices. Pa Adebanjo himself, just like Bisi Olawunmi , is not known to have won any election anywhere in his life ! Meanwhile even as Olawunmi pathetically rejoices at the 'defeat' of Tinubu in Lagos in the February 25?election, it is instructive that the APC won all three Senatorial seats and 20 of the 24 House of Representatives seats in the state. Asiwaju Bola Ahmed Tinubu's presidency will by God's grace usher in a new, brighter, more prosperous, stable, secure and United Nigeria. The Bisi Olawunmis of this world have a long, lonely, inconsolable winter ahead.
Ayodele Ola Daniels is a public affairs analyst