Why I 'shunned' Buhari's visit to my town – Ohinoyi of Ebiraland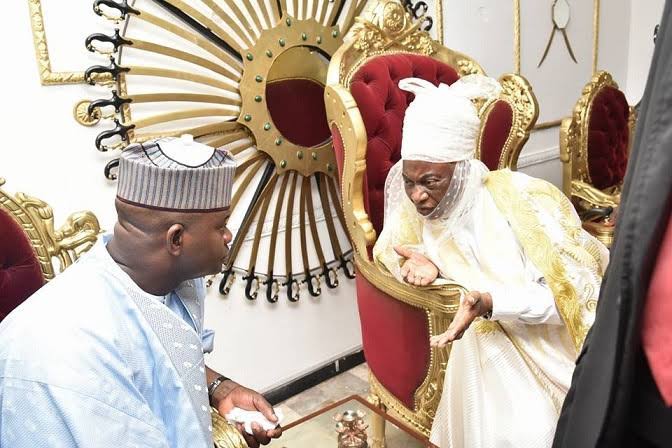 The Ohinoyi of Ebiraland Ado Ibrahim has given his reasons for being absent when President Muhammadu Buhari visited his town.
The monarch in his response to a query issued him by the state government, said no one intimated him officially of the president's visit.
He said even when he was informed the night before of the visit, he was kept in the dark of the activities.
"There was no official letter informing me about the visit of His Excellency President Muhammadu Buhari GCFR, commander-in-chief of armed forces, federal republic of Nigeria, regarding his visit on the 29th of December, 2022, to commission legacy projects executed by His Excellency Alh. Yahaya Bello, the executive governor of Kogi State," the monarch wrote.
"It was only on the night of 28th of December, 2022, you visited me at about 9:30pm and informed me that Mr President would be coming to Okene the following day to commission some projects and that I should stay back in my palace while the president will be coming to pay me a courtesy visit upon his arrival.
"On the 29th of December, 2022 at about 8:15am, I received an unofficial copy of the visit programme of Mr President and I noted that Mr President was meant to commission the Ohinoyi's palace at 10:10am.
"This observation implied that Mr President was to commission another palace other than my current palace that I have been occupying since I was coronated in 1997.
"It is worthy to note that as the Paramount Ruler of Ebiraland, I have not been officially informed of the existence of any new Palace. I, therefore, prepared in compliance with your instruction to receive Mr. President as it is customary in our traditional institution and I quickly put together a memorium to present to him to appreciate his 2nd visit to Okene since 1985, when he was received by HRH the Late Ohinoyi of Ebira Alh. Sanni Omolori.
"I made an enlarged photocopy of the photograph of the visit close to the chair which I provided during the visit as attached."
"I had just concluded preparations to receive Mr President when I heard an earth-moving bomb blast at the rear entrance to my Palace close to the new Mosque across the street at 9:00am," the letter reads.
"While I was in the Palace ensuring that the casualties of the unfortunate incident were being attended to, I was informed that Mr President had concluded his programme and departed to Lokoja.
"I also discovered that the main wall of the entrance to my Palace had been breached and all entrances to the Palace had been barricaded to make access to and fro impossible.
"I have been kept in the dark from the reception arrangements and necessary entertainment to welcome Mr President on his 2nd visit to Okene, and from extolling the pleasure of my dear people to receive him.
"I am not and have no intention to "exhibit deliberate attitude and actions regarded as bringing Kogi State and Ebiraland, in particular, to grave disrepute and regarded therefore as quite unbecoming of a revered Royal Father of my status".
"All allegations referred to in your letter, especially Paragraphs 3 and 4 are very unfortunate and I regard the same unfair to my ripe experience and age coupled to my candid, Royal dignity, accepted here in the world internationally."
The traditional ruler added that the state government is yet to offer condolences since the explosion.