Widespread violence in Kogi election was media creation – Yahaya Bello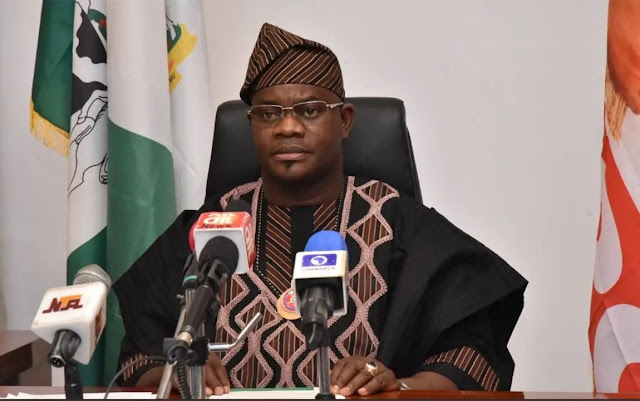 The governor of Kogi state, Yahaya Bello, has said the widespread violence that rocked the 2019 governorship election in the state was a creation of the media who were not in the state.
Bello said this on Saturday after casting his vote at his polling unit (PU) 011, Agassa, Okene LGA, Kogi state.
The governor stated this while addressing journalists on his legacy in ensuring a peaceful free and fair election that is different from the reported cases of severe violence.
"The issue of electoral violence in Kogi State is a media creation of those that are not on ground in Kogi State. Go into record and compare my own regime and that of the previous one, the regime of Yahaya Bello in the conduct of elections," Bello said.
Speaking further, Bello stated that elections in Kogi State since he assumed office, have been the freest and most credible compared to elections held and conducted by his predecessors.
"I have the freest and credible and violent free elections. So the issue of violence in Kogi State is a media creation and a figment of imagination of all those who does not want good thing to happen in Kogi State. But to the glory of God we can now see things how it is very peaceful and in an harmonious relationship."
Kogi State has a history of state-wide violence during elections, which jeopardises the electoral process as well as the safety of voters, security personnel and ad-hoc staff. In the past, such violence has been perpetuated through the use of thuggery, intimidation, ballot box snatching, and conflicts between competing factions.
This history of violence has produced a tense and hostile environment during elections, raising questions about the next elections' integrity and impartiality.
The last off-season elections, particularly in Kogi which returned incumbent and outgoing Governor Yahaya Bello for his second and final term, in 2019, were marred by widespread violence and electoral fraud, as reported by the press and independent observers.
Many polling units, particularly in Lokoja, the state capital, Ganaja, the Ajaokuta axis, and many other sections of the state, were hotbeds of electoral violence, with at least two notable observer groups, YIAGA and Situation Room, advocating for the Kogi elections to be cancelled completely.
In this election, Bello would not be contesting. And there are 18 candidates contesting the off-cycle governorship elections; 17 of them are men and one is a woman, Suleiman Taiye Fatima, a candidate from the Zenith Labour Party (ZLP). At 40 years old, Muhammad Umar from the Boot Party, is the youngest candidate.
Approximately 1.9 million Kogi residents who are registered to vote will choose a new governor.
Bello also expressed satisfaction about the conduct of the ongoing elections.
"We are all enthusiastic about the outcome of the entire process. And I have just cast my vote along with my family members and others are doing so as well. It is timely all materials were deployed And so far I have not received any complaint from any quarters
"The conduct of INEC so far has been so fantastic. All the security agencies have conducted themselves very professionally. And all the citizens that are exercising there franchise, there is no glitches, no rancor."