Wike, Rivers people are happy? By Yemi Adebowale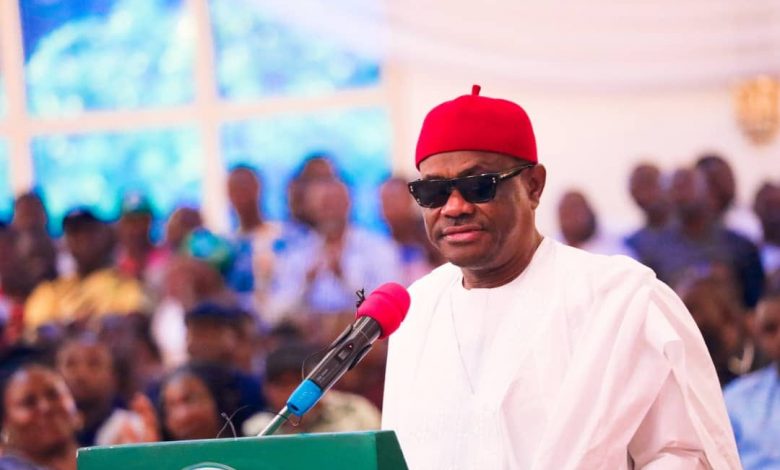 Comical Governor Nyesom Wike of Rivers State never ceases to amaze me. Call him a bully and you would be right. I always add "modern day Benito Mussolini" to his depiction. This man rules the state with an iron fist. I just laughed after watching his reaction to my expose of him on this page last week. I clearly heard Wike saying Rivers people are happy with his horde of flyovers in Port Harcourt. Contracts have been awarded for the 11th and 12th flyovers. Those happy with this garbage are clearly not Rivers people. Wike and his contractors are the people truly happy in Rivers. This governor knows what I am talking about.
Thousands of Rivers State pensioners struggling to survive due to huge unpaid annuities by Wike can't be among the happy Rivers people this governor is talking about.
Wike is building very expensive flyovers and multi-lane city roads while public hospitals and schools are largely in tatters. This governor should visit the tattered State Primary School, Sangana, at his doorstep there in Port Harcourt, to see his so-called good performance. There is also massive shortage teachers in public schools. For over seven years, the state chapter of the NUT has been begging Wike to recruit teachers, without result. Existing teachers are poorly motivated.
The citizens lack access to things as basic as public water supply and drivable inner streets, while billions are sunk into flyovers by Wike. How many homes have access to public water supply in the whole of Rivers State? Perhaps, less than one per cent. Please, visit some public hospitals in Rivers State and you will weep for this state. Communities in Tai, Ogu/Bolo, Oyigbo and many other areas outside Port Harcourt are gasping for breath.
Call him Governor Port Harcourt and you would be right. Wike spends a huge chunk of the state's resources on the Port Harcourt /Obio Akpor axis. This is why roads in other parts of Rivers State are largely ignored. When will he start work on the road to Okehi in Etche Local Government that leads to Okpala in Imo State?
There is a long list of dilapidated public schools across the state begging for attention. Wike should renovate the likes of Okrika Grammar School, Okrika LGA; Government Comprehensive Secondary School Nkoro, Opobo Nkoro LGA; Community Secondary School, Kalibiama, Opobo Nkoro LGA; UPE School, Ahoada and State School, Ihugbogo, Ahoada.
Some Rivers State institutions are dead and begging for revival like Joinkrama Grammar School, Ahoada West LGA and Kalabari Girls High School, Buguma, Asari Toru LGA. Because of Wike's tribalism, the Sports Institute of Rivers State (former Sea School) in Isaka, Okrika LGA, is as good as dead. "Governor Port Harcourt" should just divert some flyover funds to these places listed.
First published in Thisday Newspaper