With Google subsea cable, Nigeria's abolitionist, Olaudah Equiano, returns home 225 years after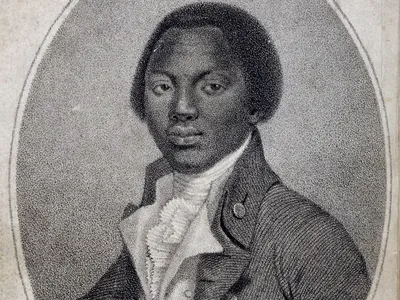 Having a child who has been away from home for a very long time make a return home definitely calls for great celebration, and such was the great joy when Olaudah Equiano made his ways back into the shores of the country 225 years after leaving in a most painful manner.
Though not via a physical entry, Equiano made a triumphant entry into the city of Lagos on Thursday via the Google sunsea cable, which was named after him and landing in the second city in the continent.
"Today, we're thrilled to announce our second Africa landing in Lagos, Nigeria. While many subsea cables are named after historical luminaries, the Equiano cable has special resonance for Nigeria. It's named after Olaudah Equiano, a Nigerian-born writer and abolitionist, so it's landing in Lagos, Nigeria today is like a homecoming," a Google statement by Director, Google West Africa Juliet Ehimuan said on Thursday.
Who was the man Olaudah Equiano?
Also known as Gustavus Vassa, according to his autobiography, Equaino was born in Essaka, Eboe, in the Kingdom of Benin around 1745. The village was in the southeast part of present-day Nigeria. When he was around the age of eleven, he and his sister were left alone to look after their family premises, as was common when adults went out of the house to work. They were both kidnapped and taken far from their hometown, separated and sold to slave traders. Six or seven months after he had been kidnapped, he arrived at the coast where he was taken on board a European slave ship. He was transported with 244 other enslaved Africans across the Atlantic Ocean to Barbados in the British West Indies. He and a few other slaves were sent on for sale in the Colony of Virginia.
After being sold to many owners as a slave, In 1765, when Equiano was about 20 years old, his master, Robert King, promised that for his purchase price of 40 pounds (equivalent to £5,600 in 2020) he could buy his freedom. King taught him to read and write more fluently, guided him along the path of religion, and allowed Equiano to engage in profitable trading for his own account, as well as on his owner's behalf. Equiano sold fruits, glass tumblers and other items between Georgia and the Caribbean islands. King allowed Equiano to buy his freedom, which he achieved in 1766.
Equiano settled in London, where in the 1780s he became involved in the abolitionist movement. The movement to end the slave trade had been particularly strong among Quakers, but the Society for Effecting the Abolition of the Slave Trade was founded in 1787 as a non-denominational group, with Anglican members, in an attempt to influence parliament directly. As early as 1783, Equiano informed abolitionists such as Granville Sharp about the slave trade; that year he was the first to tell Sharp about the Zong massacre, which was being tried in London as litigation for insurance claims. It became a cause célèbre for the abolitionist movement and contributed to its growth.
He died on March 31, 1797 and was buried at Whitefield's Tabernacle on April 6.
Benefits of Equiano's homecoming
Just like his desire was to see Africans experience greatness, the landing of Equiano submarine cable in Nigeria is going to bring a great transformation to the city of Lagos.
Speaking about the landing of Equiano in Nigeria, Lagos State Governor, Babajide Sanwo-Olu said the sea cable system will deliver twenty times as much network capacity as any of the existing systems serving Nigeria.
This according to him meant much faster internet speed, reduced cost, and greater access for our people.
The governor further said this would translate to over 1.6 million new jobs and $10bn boost to the country's Gross Domestic Product over the next three years.
"I am told that this new Equiano cable system, landing today, will deliver twenty times as much network capacity as any of the existing systems serving Nigeria.
"This means much faster internet speed, reduced cost, and greater access for our people. The net effect of this is much-needed jobs and economic growth. The economic impact assessment for the project estimates that Nigeria will enjoy a boost of 1.6 million jobs and $10 billion in additional Gross Domestic Product (GDP) over the next three years, on account of the new cable system.
"There is much to be excited about, at a time like this in the unfolding history of Lagos State and of Nigeria. We are seeing an unprecedented inflow of investments into every part of Lagos, from local and foreign investors who understand the immense business and commercial potential that the State symbolises.
"We say it often, that wherever Lagos goes, Nigeria and West Africa follow. With this in mind, as the government of Lagos State, we are more than ever determined to deliver on our promise to make and maintain Lagos as a safe, livable, innovative and prosperous megacity," Sanwo-Olu said.
As things begin to get better in Lagos and in Nigeria through Equiano's homecoming after 225 years of being away, many who do not know him will begin to enjoy what he fought for, the abolition of slave trade.
The £40-£50 that the then 21-year-old Equiano used in purchase his freedom in 1766 did not only buy him freedom, it has also set the continent free from slavery and is about to make the lives of about 1.6 million of his country people experience a new lease of life.
Indeed, after being away for 225 years, the hero Equiano has returned home not only to a great welcome, but he brings glad tidings.