Women affairs minister Uju Ohanenye, feeds 520 women, children at Suleja prison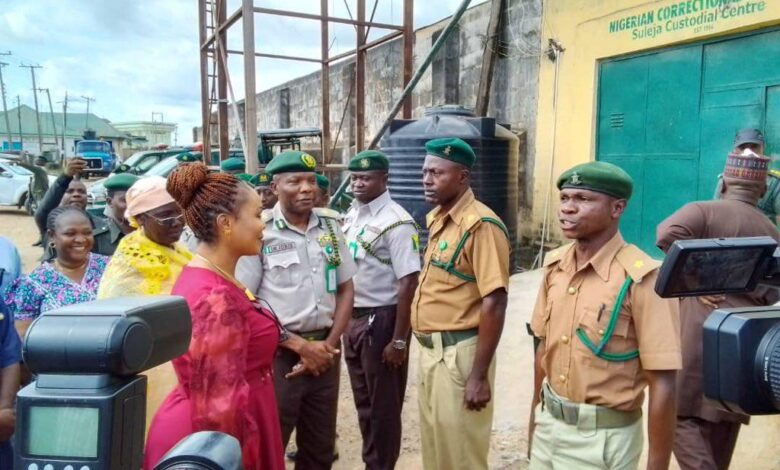 As part of her commitment to improving the well-being of Nigerian women and children, the Minister of Women Affairs, Uju Ohanenye, fed around 520 women and children at the Nigerian Correctional Service, Suleja in Niger State during a working visit.
Ohanenye also gave the female detainees and their children toiletries including sanitary pads, cartons of soap, detergents, and other supplies in addition to the food boxes.
During the visit, the minister was informed that the correctional facility also operates skill acquisition centres for the production of Dettol, air freshener, bag production, and tailoring, as well as a school that has produced 40 graduates through the National Open University, 42 students who sat for the West African Examination Council (WAEC) Examination, 26 students who sat for the National Examination Council (NECO), and 40 graduates from the National Business and Technical Examination (NABTEC).
Ohanenye, moved by the situation of the male and female inmates, met with them personally to determine the nature of the offence that brought them to the facility and ended up paying off the optional fines imposed by the court on some of the convicts.
Similarly, she admonished the inmates on the side effects of criminality adding that it pays to be law abiding citizens. She also commended the centre for running skill acquisition centres which will, no doubt, enable the inmates to be useful to the society when they complete their jail terms.
She also promised to set up a scheme that will train and upgrade the skill acquisition centres to produce bags, soaps, detergent and clothes in large quantities for commercial purposes that will benefit the inmates.
She reiterated her commitment to address gender based violence, illiteracy, rape, sexual harassment, female genital mutilation and other practices against the female gender.
After the visit, the Controller of the Suleja Correctional Facility, Idris Ibrahim, commended the minister for her kind gesture barely a week after resuming office and added that her visit has provided a big boost to the morale of the inmates.